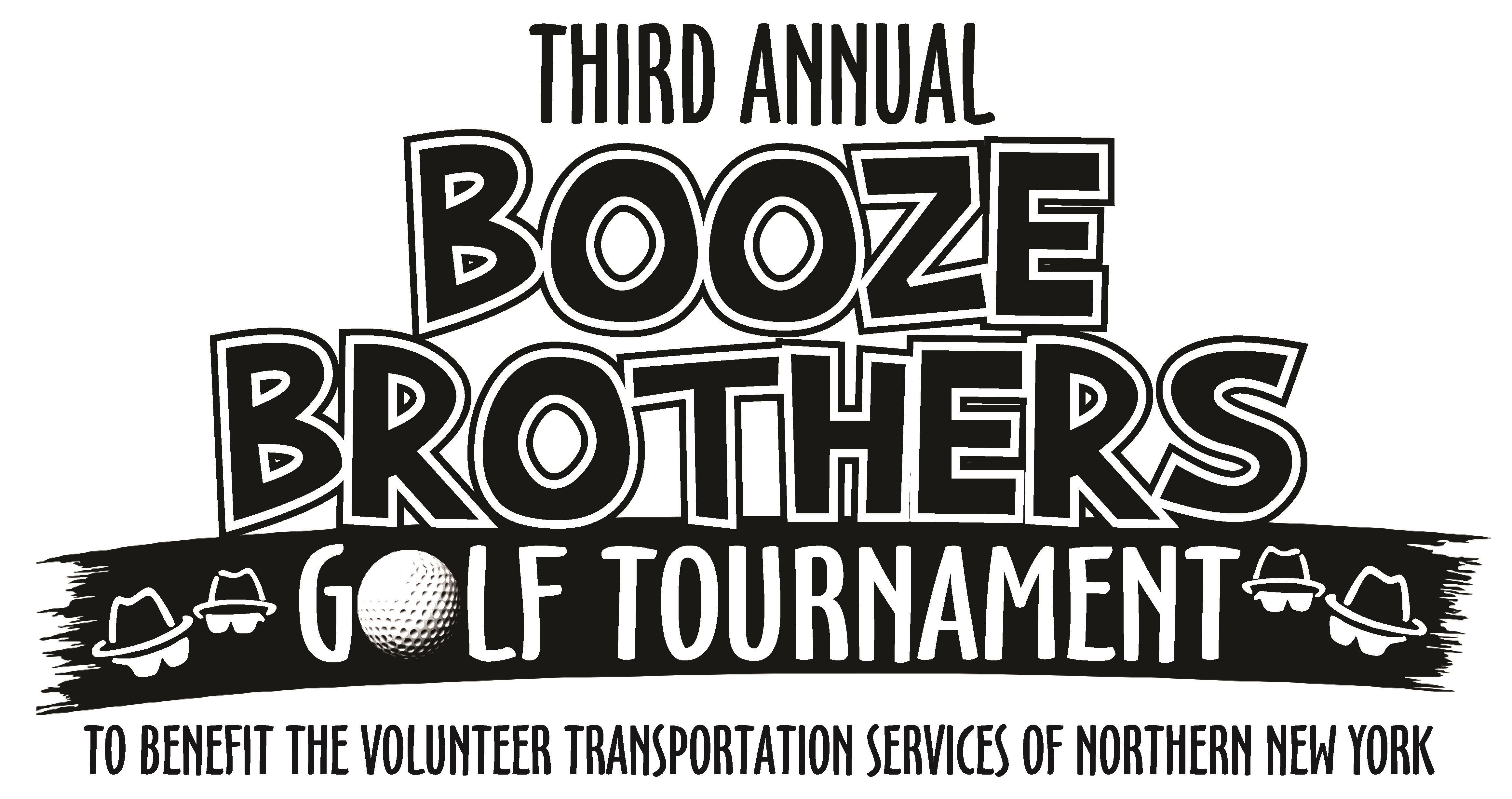 (POTSDAM, N.Y.) – The Third Annual Booze Brothers Golf Tournament will return to the Potsdam Town & Country Club, 6194 State Route 56, Potsdam, with a focus this year on benefiting the Volunteer Transportation Center, Inc. (VTC).
The captain and crew tournament — organized by Charles "Chip" Giordano, former owner of Chip's Place in Hannawa Falls, and Roy Wilson, owner of T&R Wines and Liquors in Potsdam — is presented by T&R Wines and Liquors and Spirits of Hannawa in Hannawa Falls — will be held Saturday, Aug. 8. Sign in starts at 8:30 a.m. with a shotgun start at 10 a.m.
The tournament is held in memory of Mr. Giordano's wife Cathy, who passed away from cancer in March of 2013. Since the tournament's inception in 2013 — when it was then known as the "Cathy Giordano Fun Razr" before later becoming the Booze Brothers tournament in 2018 — each year, an organization is chosen to benefit from money raised at the event. The inaugural tournament benefited Hospice of St. Lawrence Valley. Last year, the Potsdam Rescue Squad was chosen. This year, at the suggestion of Mr. Giordano's daughter, Sommer, an active member of the VTC's St. Lawrence County Advisory Committee, the VTC was chosen to benefit from the tournament.
"When we learned this year's tournament will benefit our nonprofit organization, we were extremely honored," said Jeremiah S. Papineau, VTC Foundation Director and Director of Communications. "Sommer is an amazing advocate for our mission to help people here in St. Lawrence County and we cannot thank her or her family enough."
"The socioeconomic disparities that our geographical region faces is mitigated by VTC's efforts to ensure our community members have transportation to needed services," said Ms. Giordano. "Supporting this organization is a natural choice for the benefit of our community."
"Helping the community has always been something that Chip's Place has wanted to be involved with," said Mr. Giordano. "Our family has been a part of this community since well before I was born. We're happy to be in a position that we can contribute to the needs of others."
The cost to register for the Third Annual Booze Brothers Golf Tournament is $70 per person or $280 per team and includes 18 holes with a cart, lunch, T-shirt and prizes.
For more information about the tournament or to register, contact Chip's Place at 315-254-7951 or the Potsdam Town & Country Club at 315-265-2141.
ABOUT THE VOLUNTEER TRANSPORTATION CENTER
The Volunteer Transportation Center, Inc. (VTC), established in 1991, drives thousands of miles each year assisting community members in Jefferson, Lewis and St. Lawrence Counties. Over the last 20 years, this essential non-profit organization has provided rides to health care appointments, grocery shopping, and other destinations for residents.
In 2019, our volunteer drivers provided 30,356 charitable trips over 912,866 miles in Jefferson, Lewis and St. Lawrence Counties, an increase in miles of 17.47% over 2018. Of those miles, 424,290 originated in Jefferson County, 141,190 in Lewis County, and 347,386 in St. Lawrence County.
The staff, Board of Directors and volunteer drivers look forward to a time when transportation to community activities and services is accessible to all North Country residents regardless of economic or specialized needs. But for now the mission drives on — striving to provide transportation to health, wellness and critical needs destinations utilizing volunteers and mobility management for anyone who has barriers to transportation.
For more information about how you can help the Volunteer Transportation Center, about its upcoming events, or to become a volunteer driver, contact the agency in Watertown at 315-788-0422, in Canton at 315-714-2034, or Fulton at 315-714-9134. To learn more, visit www.VolunteerTransportationCenter.org.