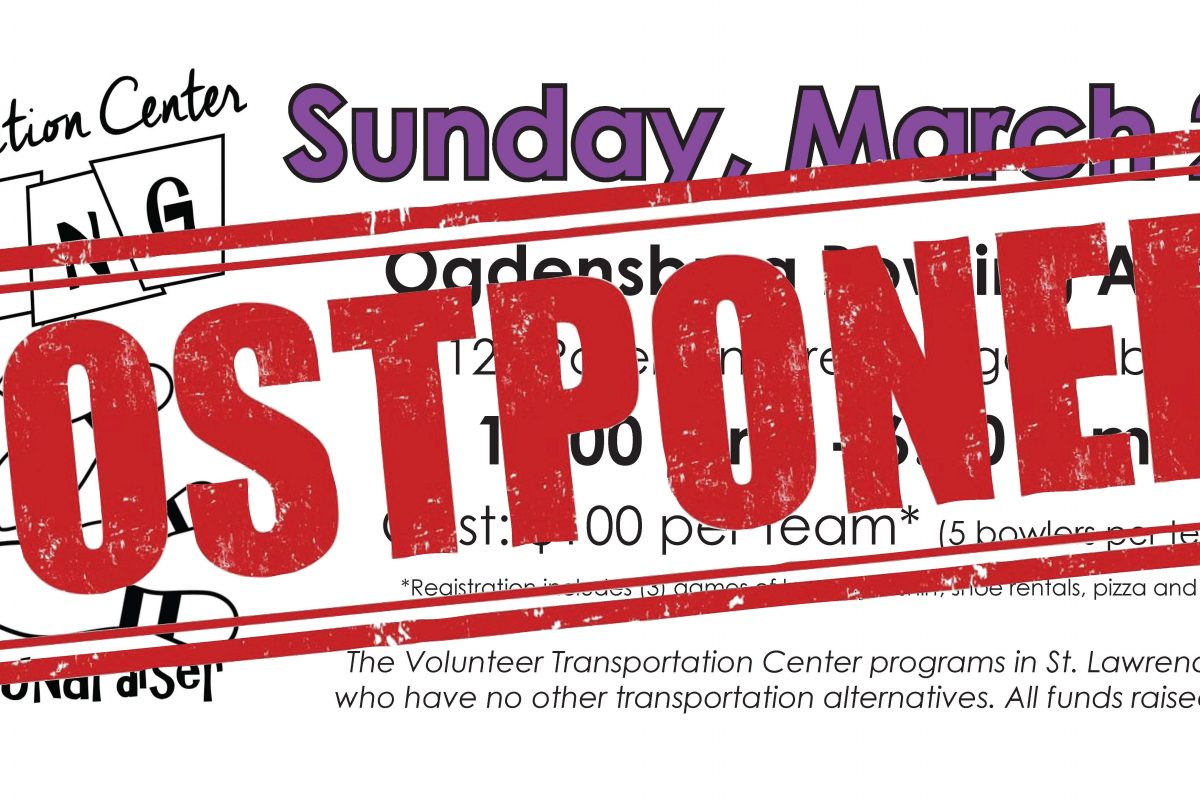 Bowlers needed to raise funds for local volunteer transportation programs
UPDATE: THIS EVENT HAS BEEN POSTPONED DUE TO CONCERNS OVER THE COVID-19 PANDEMIC. WE WILL ANNOUNCE THE NEW DATE FOR THE EVENT AS SOON AS IT IS SCHEDULED.
(OGDENSBURG, NY) – The Volunteer Transportation Center's St. Lawrence County Advisory Committee will host its second Volunteer Transportation Center Bowling Tournament Sunday, March 29. The tournament will be held at the Ogdensburg Bowling Alley, 1121 Paterson St., Ogdensburg, from 12 to 6 p.m. Proceeds raised will support volunteer transportation programs serving St. Lawrence County.
"We're looking forward to the return of this important fundraiser," said VTC St. Lawrence County Program Director Christine Richardson, who noted the tournament was last held in November 2018. "We moved the tournament to later in the winter after having our inaugural North Country Mac & Cheese Cook-Off this past November."
That fundraiser, said Ms. Richardson, was held at Clarkson University's Cheel Arena, raising $3,000 for the VTC, which provides transportation to neighbors who otherwise would not have access to critical appointments and life-sustaining services such as renal dialysis and cancer treatment.
"We wanted to try the Mac and Cheese Cook-Off here in St. Lawrence County, modeled after the North Country Chili Cook-Off our Watertown office hosts each year in Jefferson County," Ms. Richardson explained. "The timing worked out to host that in November, so we had to push back the date of the bowling tournament."
"We've had people asking about the tournament so the enthusiasm for it is apparently still there," she said with a laugh.
Thirty teams participated in the 2018 event with the anticipation just as many will return this year, if not more, said VTC Foundation Director Jeremiah S. Papineau.
"We're really looking forward to this," said Mr. Papineau. "It's a great day to chase away the winter blues and have a good time with friends and family."
The no-tap tournament will be a five-person team format. Prizes will be awarded to top teams for best costumes. Raffles will be held throughout the day.
The cost of registration is $100 per team which includes (3) games of bowling, T-shirt, rental shoes and pizza. Registration will begin at 11:30 a.m., with bowling to be offered in two heats: 12 to 3 p.m. and 3 to 6 p.m. Pre-registration is available by clicking the link HERE or by calling Ms. Richardson 315-714-2034.
Those wishing to be a sponsor for this year's event or to donate items toward raffles may also reach Ms. Richardson or contact Mr. Papineau at 315-755-2918 or jeremiah@volunteertransportation.org.
ABOUT THE VOLUNTEER TRANSPORTATION CENTER
The Volunteer Transportation Center, Inc. (VTC), established in 1991, drives thousands of miles each year assisting community members in Jefferson, Lewis and St. Lawrence Counties.
Over the last 20 years, this essential non-profit organization has provided rides to health care appointments, grocery shopping, and other destinations for residents. In 2018, our volunteer drivers provided over 251,606 miles of transportation in St. Lawrence County alone, and over 777,123 miles across Northern New York. Data from 2019 is currently being compiled.
The staff, Board of Directors and volunteer drivers look forward to a time when transportation to community activities and services is accessible to all North Country residents regardless of economic or specialized needs. But for now the mission drives on — striving to provide transportation to health, wellness and critical needs destinations utilizing volunteers and mobility management for anyone who has barriers to transportation.
For more information about how you can help the Volunteer Transportation Center or to become a volunteer driver, contact the agency in St. Lawrence County at 315-714-2034 or call the Jefferson County Office in Watertown at 315-788-0422. To learn more, visit www.VolunteerTransportationCenter.org.




	

	.