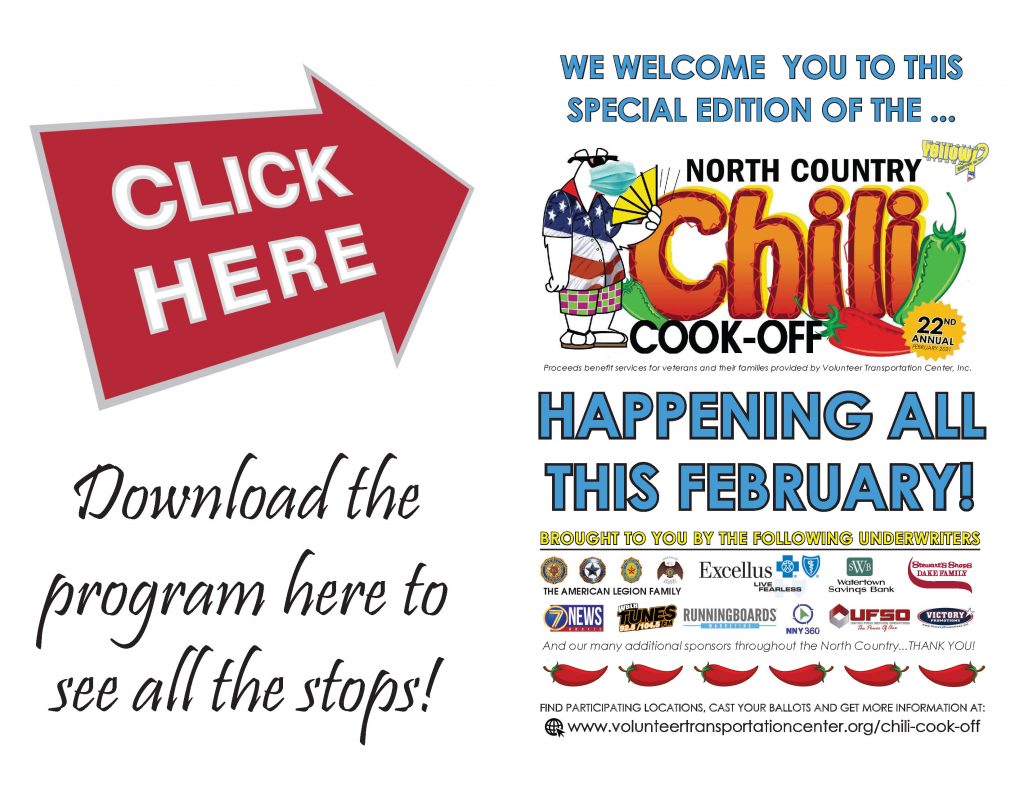 ---
Annual North Country Chili Cook-Off Format
Changes in Response to COVID-19 Pandemic
(WATERTOWN, NY) – The Volunteer Transportation Center, Inc. (VTC) will host the 22nd Annual North Country Chili Cook-Off in a new format this year due to the COVID-19 pandemic.
As first announced in December, the cook-off – typically held as a one-day event at the Dulles State Office Building in Watertown on the first Saturday of February – will instead be held at participating restaurants in Jefferson, Lewis and St. Lawrence Counties throughout the month of February. The move was made in an effort to host the event in a way that would follow New York State mandates and adhere to CDC guidelines.
"We are excited to host this very different version of the North Country Chili Cook-Off," said Jeremiah S. Papineau, Director of Communications and Foundation Director for the VTC. "We're so used to seeing the cook-off as a huge, one-day event but we obviously couldn't do that this year. So, our planning committee put their heads together and came up with something we think will be a hit."
The North Country Chili Cook-Off — just for this year — will focus only on the "Professional" category and be held at participating restaurants throughout Jefferson, Lewis and St. Lawrence Counties, said Mr. Papineau. The event will follow a "pub crawl" format, where those wishing to sample and vote on their favorite entries may do so at participating restaurants.
The following restaurants have signed up to compete during their regular hours of operation:
PARTICIPATING RESTAURANTS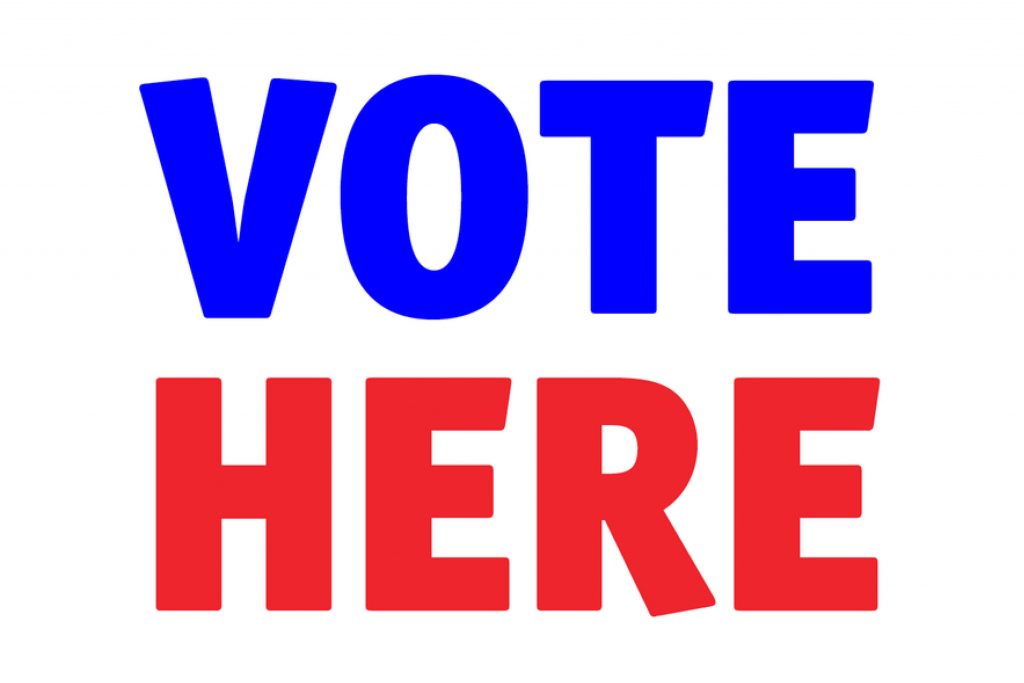 "We are overwhelmed by the number of restaurants that have signed up for this new format," said Mr. Papineau. "Having their participation is key to getting people in the community excited and to this being a success."
That's extremely important, he added, as the cook-off is a fundraiser to help the VTC transport Veterans and their families.
"Each year, we raise upwards of $40,000 with the cook-off for that purpose," said Mr. Papineau. "The importance of this event and the money raised through it is something that cannot be underscored enough. Not only that, we're hoping this format will help bring business to the restaurants that have been hurting during this pandemic. We're thinking it'll be a win-win."
Mr. Papineau added he and the event's planning committee hope the world will be in a much better state when the cook-off plans to return to the Dulles State Office Building in 2022 for its 23rd year.
This year's cook-off will run from Monday, Feb. 1, through Sunday, Feb. 28. Hours of each location will be available on the cook-off page of the VTC website, www.volunteertransportationcenter.org/chili-cook-off. Those wanting to cast votes will be able to do so in person by paper ballot or online through the VTC website. The entry with the most votes will get a special plaque denoting them winner of the special edition People's Choice Award.
In addition, participating restaurants will be able to win a Top Fundraiser Award by collecting donations for the Volunteer Transportation Center. The participating team with the highest amount raised will receive this special recognition.
The 22nd Annual North Country Chili Cook-Off is supported by "Underwriting Level Sponsors" Excellus BlueCross BlueShield, Watertown Savings Bank, Stewart's Shops/The Dake Family, Victory Promotions, United Food Service Operators, WWNY-TV 7News/Fox28/MeTV, Tunes 92.5/Intrepid Broadcasting, Runningboards Marketing, NNY360/Watertown Daily Times, and The American Legion Family.
Additional support comes from "Platinum Level Sponsors" Price Chopper, Watertown Internists, Samaritan Medical Center, and Nephrology Associates of Watertown/Dr. Khalid Sindhu; "Gold Level Sponsors" Lake Ontario Cattle Company, Kinney Drugs Foundation, State CS Employee Federal Credit Union, Keller Williams-Amy Kenney, Benefit Services Group, Advanced Business Systems, Knowlton Technologies, Rose & Kiernan Insurance, and North Country Insurance Company; "Silver Level Sponsors" The ARC of Jefferson-St. Lawrence, Cheney Tire, RBC Wealth Management, Alexandria Bay Post 904 SAL, Brownville Post 588 SAL, Carthage Area Hospital, The Bonadio Group, DOCO Quick Print, Watertown Hearing Aid Center, Barrett Paving Materials, GYMO Architecture Engineering & Land Surveying, GEICO Insurance Watertown, Key Bank, Lake Ontario Realty, Slack Chemical Company, Haylor, Freyer & Coon, Fuller Insurance Agency,Ives Hill Retirement Community, and Massey's Furniture Barn; and "Friends of the Cook-Off Sponsors" Hospice of Jefferson County, CHJC, and Bach & Company.
For more information about the 22nd Annual North Country Chili Cook-Off, contact Mr. Papineau at 315-755-2918 or via email at jeremiah@volunteertransportation.org. Additional information is available on-line at www.volunteertransportationcenter.org/chili-cook-off.
ABOUT THE VOLUNTEER TRANSPORTATION CENTER
The Volunteer Transportation Center, Inc. (VTC), established in 1991, drives thousands of miles each year assisting community members in Jefferson, Lewis and St. Lawrence Counties. Over the last 20 years, this essential non-profit organization has provided rides to health care appointments, grocery shopping, and other destinations for residents.
In 2019, our volunteer drivers provided 30,356 charitable trips over 912,866 miles in Jefferson, Lewis and St. Lawrence Counties, an increase in miles of 17.47% over 2018. Of those miles, 424,290 originated in Jefferson County, 141,190 in Lewis County, and 347,386 in St. Lawrence County. Data for 2020 is still being compiled.
The staff, Board of Directors and volunteer drivers look forward to a time when transportation to community activities and services is accessible to all North Country residents regardless of economic or specialized needs. But for now the mission drives on — striving to provide transportation to health, wellness and critical needs destinations utilizing volunteers and mobility management for anyone who has barriers to transportation.
For more information about how you can help the Volunteer Transportation Center, about its upcoming events, or to become a volunteer driver, contact the agency in Watertown at 315-788-0422, in Canton at 315-714-2034, or Fulton at 315-714-9134. To learn more, visit www.VolunteerTransportationCenter.org.