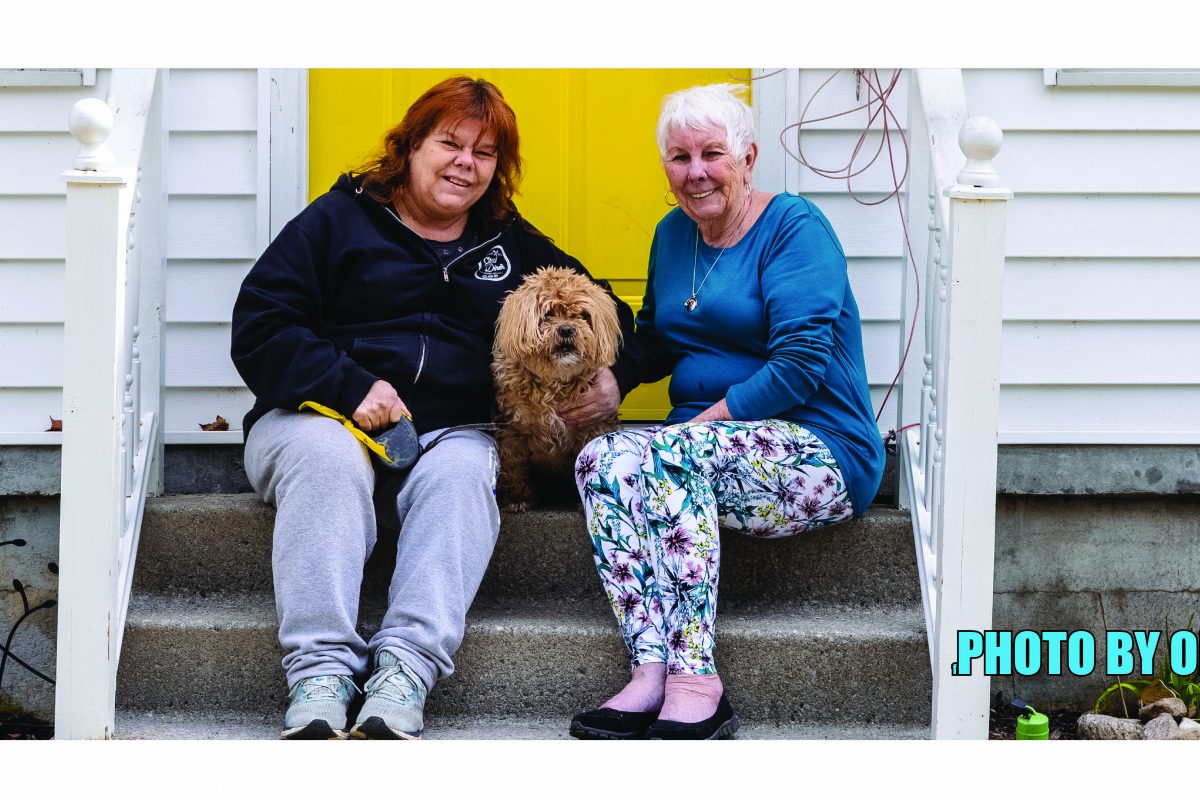 Nonprofit One of Three to Receive Donations from Grassroots Initiative
(WATERTOWN, NY) – The Volunteer Transportation Center, Inc. (VTC) is proud to announce it has been named among nonprofit organizations that will benefit from a grassroots initiative known as the #NNYFrontDoorProject.
The project, launched by Olivia Grant and Jill Clement Grant, was designed to bring businesses, families, friends and other community members together — from a safe distance — with portrait photography. "It's been a team effort," said Ms. Grant. "My mom saw that other areas around the country were doing similar creative movements in order to spread positivity during this time. She told me about the way other areas were doing it and we knew we had to do it here and add our local spin."
"Though I take the portraits, she organizes and comes on all the shoots with me. She's the brains behind the operation," Ms. Grant added with a laugh.
The 10-minute portrait sessions are being offered across Jefferson County at no cost. Those who wish to have a session will rather be asked to make donation a donation to the Volunteer Transportation Center, Victims Assistance Center, or Belleville-Henderson Central School Backpack Program. Ms. Grant said he project is meant to be "a fun, lighthearted documentary photo and video series," with participants able to "be goofy, get all glammed up, stay in your pjs, or take a professional shot."
Ms. Grant said her mother recently posted a Facebook status update about the experience that was "perfect," she said. The status read: "We have had the privilege of meeting so many great people in our community. While remaining socially distant, we have gotten a glimpse at other people's lives. Not only people, but businesses and pets."
"We were very excited to hear about the #NNYFrontDoorProject," said Sam Purington, Executive Director of the VTC, "and even more excited when we learned we were one of the three organizations chosen to benefit from this. We cannot thank Olivia and Jill enough for thinking of us and for everyone who has participated so far."
"In a time like this when so many of us aren't able to be together, the #NNYFrontDoorProject is a way to share the smiling faces of our friends and loved ones," said VTC Foundation Director Jeremiah S. Papineau. "This project brings a ray of light during what can be a dark time for many. We are appreciative beyond words to be a part of this."
For more information about the #NNYFrontDoorProject, visit www.oliviakgrant.com/nny-front-door-project or
www.VolunteerTransportationCenter.org.
ABOUT OLIVIA GRANT
Ms. Grant graduated from Queen's University in Kingston, Ontario, with a Bachelor of Arts Honours degree in Stage and Screen Studies. She has her own full-time creative content business called Olivia Grant Creative. She is currently located in Watertown, New York.
ABOUT THE VOLUNTEER TRANSPORTATION CENTER
The Volunteer Transportation Center, Inc. (VTC), established in 1991, drives thousands of miles each year assisting community members in Jefferson, Lewis and St. Lawrence Counties. Over the last 20 years, this essential non-profit organization has provided rides to health care appointments, grocery shopping, and other destinations for residents.
In 2019, our volunteer drivers provided 30,356 charitable trips over 912,866 miles in Jefferson, Lewis and St. Lawrence Counties, an increase in miles of 17.47% over 2018. Of those miles, 424,290 originated in Jefferson County, 141,190 in Lewis County, and 347,386 in St. Lawrence County.
The staff, Board of Directors and volunteer drivers look forward to a time when transportation to community activities and services is accessible to all North Country residents regardless of economic or specialized needs. But for now the mission drives on — striving to provide transportation to health, wellness and critical needs destinations utilizing volunteers and mobility management for anyone who has barriers to transportation.
For more information about how you can help the Volunteer Transportation Center, about its upcoming events, or to become a volunteer driver, contact the agency at 315-788-0422. To learn more, visit www.VolunteerTransportationCenter.org.
CAPTION: Connie Elliott of Adams, right, and her daughter, Amy Starnes, pose with Dixie for the #NNYFrontDoorProject.