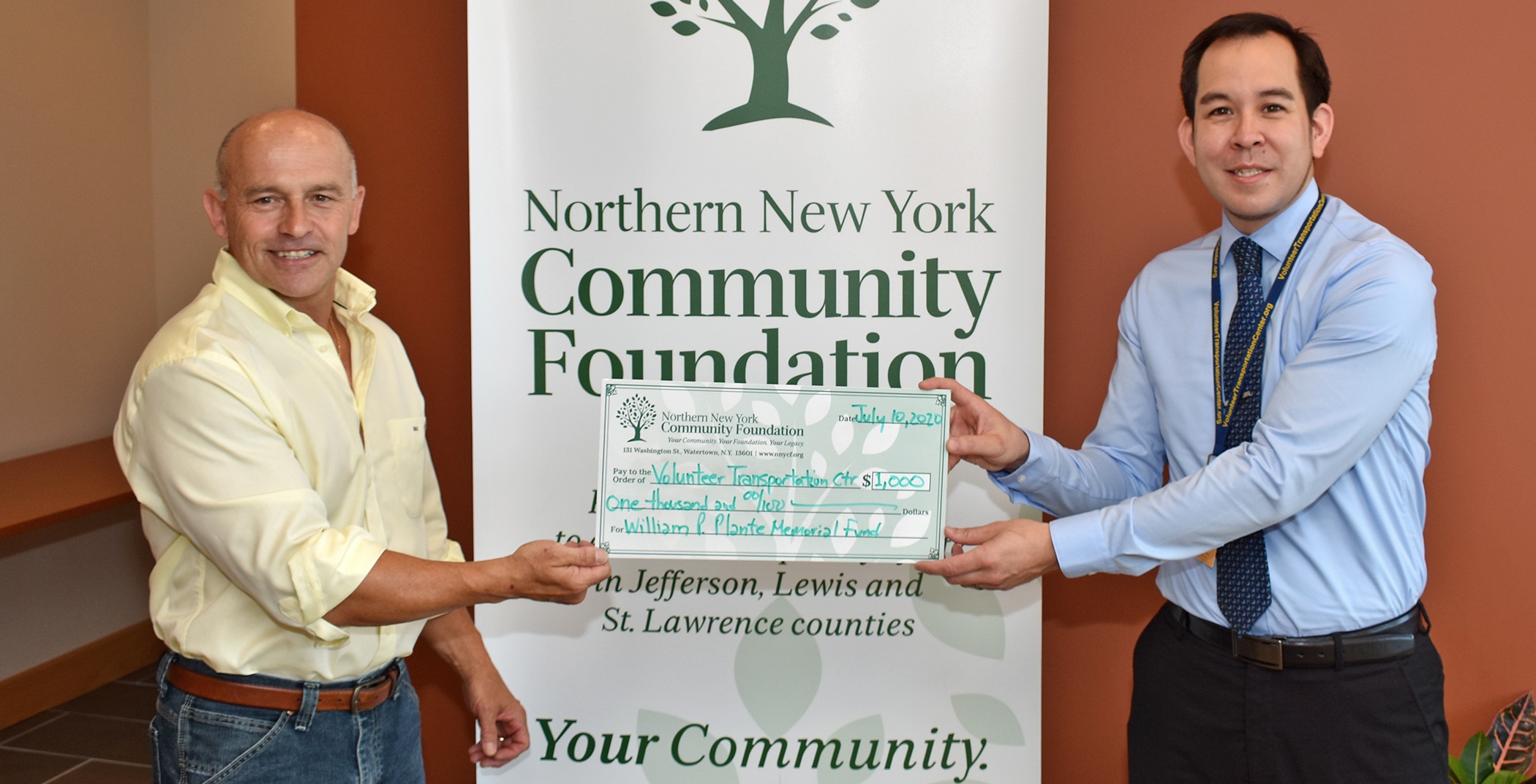 (WATERTOWN, N.Y.) – The Volunteer Transportation Center Inc. (VTC) is proud to announce it has received a $1,000 grant from the William P. Plante Memorial Fund, a foundation stewarded by the Northern New York Community Foundation.
The memorial fund was established in early 2017 following the passing of Mr. Plante in November 2016 after a brave four-year battle with cancer. For more than 30 years, Mr. Plante was deeply involved in serving his community, supporting a wide range of charitable organizations and causes. The fund in his name annually supports community projects and organizations, with the Volunteer Transportation Center being this year's beneficiary.
Michael A. Colello, a member of the William P. Plante Memorial Fund advisory committee, said the VTC was selected to receive a $1,000 gift by the Plante family when it was determined the VTC was assisting local food pantries with the delivery of essentials to area families in need during the Coronavirus (COVID-19) pandemic.
"Knowing the volunteers donate their time and are only reimbursed for vehicle expenses, and understanding that this was a cause in the spirit of what the Foundation stands for and for what Bill Plante himself would have supported, the grant was made," said Mr. Colello, who spearheads the committee with his fiancée, Audrey J. Danielsen, and his daughter, Arika Colello.
"We are extremely proud to be chosen as this year's grant recipient," said Jeremiah S. Papineau, Foundation Director and Director of Communications for the VTC. "It's an honor that the committee and the Plante family saw the value in what we and our volunteer drivers do, so much that they were compelled to present us with a gift in Bill's memory."
Mr. Colello credited the Northern New York Community Foundation with being "instrumental" in setting up the William P. Plante Memorial Fund and in continuing "to provide guidance to keep Bill Plante's legacy alive." In addition to the annual grant to a charitable cause, the memorial fund also annually awards scholarships to two local high school students who demonstrate a similar passion to community service.
Each year, the committee also hosts their annual "Rockin' It For Bill" musical boat cruise fundraiser. However, this year, due to the COVID-19 pandemic, the event was canceled. Mr. Colello stated the event will return next year, with a date in July 2021 being finalized.
Those wishing to give to the William P. Plante Memorial Fund may do so at www.wppmemorialfund.org. More information is also available on their Facebook page at www.facebook.com/rocktheriverforbill.
ABOUT WILLIAM "BILL" PLANTE
William "Bill" Plante was born on November 29, 1957 in Watertown N.Y., the son of Paul and Phyllis Burns Plante. Bill was raised in Watertown with his three siblings, Stephen, John and Nancy. He was a 1976 graduate of Immaculate Heart Central High School where he played lacrosse and football. Upon graduation, he attended Morrisville Community College and graduated with a B.S. in Environmental Studies in 1984 from SUNY College of Environmental Science and Forestry at Syracuse University.
On December 30, 1983, he married the love of his life, Judith Lynn Coleman, at Holy Family Church. Bill and Judi had four children that they raised in Watertown — Ryan, Kyle, Aimee and Cole. Bill raised his children to love many of the same things he was passionate about. His biggest passion was perhaps the outdoors. Whether it be camping, hiking, kayaking, running or biking he was always happiest enjoying nature and being active.
Bill often volunteered his time to support his local community and church. In 2016, he was the recipient of the Friends of IHC School Award in recognition for his hard work and dedication to IHC. He had previously served on the school boards of Holy Family and IHC as well as the Board of Directors for the Thompson Park Conservancy for eight years. Bill loved lacrosse and spent many years organizing and coaching youth lacrosse in the area.
Giving back to his community was something that Bill took pride in throughout his life in Watertown. This is why the William P. Plante Memorial Fund was established, to honor Bill and continue his legacy of giving back to the community.
ABOUT THE NORTHERN NEW YORK COMMUNITY FOUNDATION
Since 1929, the Northern New York Community Foundation has invested in improving and enriching the quality of life for all in communities across Jefferson, Lewis and St. Lawrence counties.
Through partnerships with businesses and organizations, charitable foundations, and generous families and individual donors, the Community Foundation awards grants and scholarships from an endowment and collection of funds that benefit the region. Its commitment to donors helps individuals achieve their charitable objectives now and for generations to come by preserving and honoring legacies of community philanthropy while inspiring others.
The Community Foundation is a resource for local charitable organizations, donors, professional advisors and nonprofit organizations. It also works to bring people together at its permanent home in the Northern New York Philanthropy Center to discuss challenges our communities face and find creative solutions that strengthen the region and make it a great place to live, work, and play.
For more information about the Northern New York Community Foundation, visit their website at www.nnycf.org, email info@nnycf.org or call 315-782-7110.
ABOUT THE VOLUNTEER TRANSPORTATION CENTER
The Volunteer Transportation Center, Inc. (VTC), established in 1991, drives thousands of miles each year assisting community members in Jefferson, Lewis and St. Lawrence Counties. Over the last 29 years, this essential non-profit organization has provided rides to health care appointments, grocery shopping, and other destinations for residents.
In 2019, our volunteer drivers provided 30,356 charitable trips over 912,866 miles in Jefferson, Lewis and St. Lawrence Counties, an increase in miles of 17.47% over 2018. Of those miles, 424,290 originated in Jefferson County, 141,190 in Lewis County, and 347,386 in St. Lawrence County.
The staff, Board of Directors and volunteer drivers look forward to a time when transportation to community activities and services is accessible to all North Country residents regardless of economic or specialized needs. But for now the mission drives on — striving to provide transportation to health, wellness and critical needs destinations utilizing volunteers and mobility management for anyone who has barriers to transportation.
For more information about how you can help the Volunteer Transportation Center, about its upcoming events, or to become a volunteer driver, contact the agency at 315-788-0422. To learn more, visit www.VolunteerTransportationCenter.org.