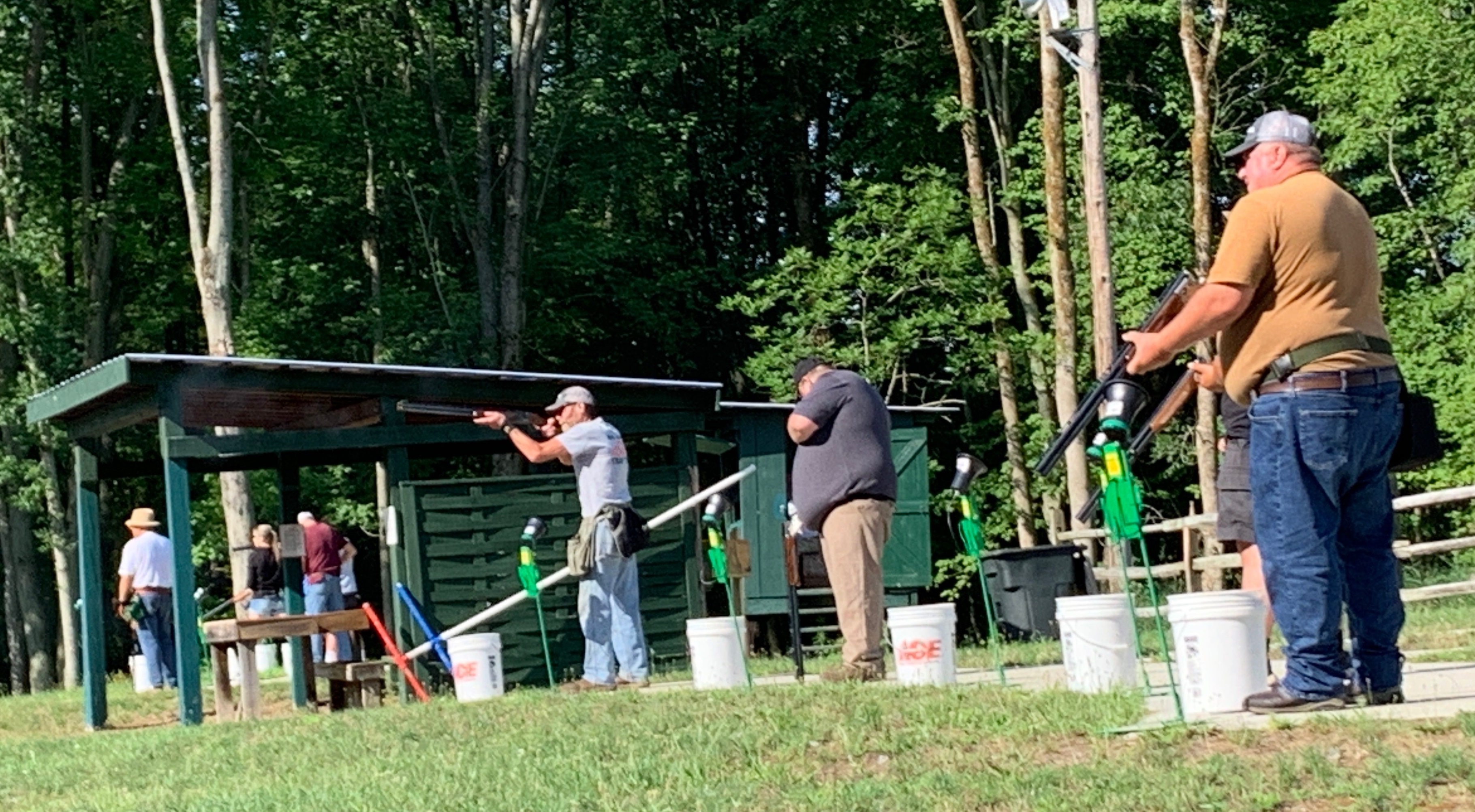 (WATERTOWN, N.Y.) – The Carthage Rod and Gun Club hosted the 8th Annual Shootin' Trap for Trips fundraiser for the Volunteer Transportation Center, Inc. (VTC) on July 25, 2020. This year's event saw more than 50 participants and raised more than $2,800 to benefit transportation of clients in Lewis County.
This year's event faced the challenge of being held during the Coronavirus (COVID-19) pandemic but, according to VTC Foundation Director and Director of Communications Jeremiah S. Papineau, went well.
"We were really pleased with the turnout this year, especially considering what's going on in the world," said Mr. Papineau. "We can't give thanks enough to all the people who came out to shoot this year."
Northern Tier Trap League members were among those who chiefly turned out to shoot at the Carthage Rod and Gun Club on Cold Springs Park Road. Though the event is open to the public, Mr. Papineau said the decision was made to limit the advertising of the event in the public.
"With everything going on right now, we didn't want to attract massive numbers and then run into an issue with social distancing," he said. "It's a double-edged sword these days with hosting events. Above all, you have to be responsible."
Mr. Papineau credited the Carthage Rod and Gun Club with their hard work behind the scenes to get this year's event off the ground, including club president Justin Bach, trap team captain Alan Arndt, shoot organizer Scott Covey and kitchen manager Valda Arndt. He further credited the support of several volunteers who worked the event.
Top Gun of this year's 50 Bird Shoot was Scott Covey with a score of 50. Other winners of the shoot were: Sub-Junior – George Gerow (44); Junior – James Irvine (48); Veteran – Don Bonham (47); Senior Veteran – Dave VanCour (43); Ladies – Deanna Morse (43); D – Lou Castor (44); C – Wayne Reed (47); B – Nate Arndt (48); A – Don Farrell (50); and AA – Ryan Sequin (50).
Excellus BlueCross BlueShield and Watertown Savings Bank served as Underwriting Sponsors for this year's trap shoot. The event was also supported by many local organizations and businesses.
Raffle items were donated by A To Z Liquors, An Eclectic Boutique, Aubuchon Hardware, Black River Valley Natural, Buckingham Hardware & Great Outdoors, Café Z, Carthage Tire, Cedars Golf Course, Church Street Diner, Croghan Meat Market, Dolhof True Value, Eddie's Meat Market, Farney's Inc. Home and Building Center, Gamble Distributors, Gillee's NAPA, Gille's Bed & Breakfast, IMEC, Jeb's Restaurant, Josh's Riverside Restaurant, Journal & Republican, Jreck Subs, Kathy's Barber Shop, Kraft Heinz Company, Lewis County Chamber of Commerce, Lisk's Florals, Lloyd's of Lowville, Lowville Farmers Co-Op, Lowville Producers Dairy Cooperative, Lowville Sport & Farm, Lube Express At Franklin Place, Monnat & Nortz, North Star Food Hub, Nortz & Virkler, PB&J Café, Pizza Hut, Price Chopper, Red Barn Meats Inc., Roggies Flooring, RuMar Graphics, Sherman Electric, Sherwin Williams, Silver Bench Jewelry, Simon's Farm & Home Center, Steak 'N Brew, Stefano's Pizzeria, Stump's Liquor and Video, Tim Fralick Custom Calls, Town Hall Theater, Turin Highlands Golf and Country Club, Twin Village Liquors, TYRO Automotive, Kathy Birth, Sam Purington, Jennifer Cross-Hodge, and Nettie Mothersell.
Those who missed the event but who would still like to make a contribution to the VTC may do so by contacting Mr. Papineau at 315-755-2918 or email jeremiah@volunteertransportation.org.
ABOUT THE VOLUNTEER TRANSPORTATION CENTER
The Volunteer Transportation Center, Inc. (VTC), established in 1991, drives thousands of miles each year assisting community members in Jefferson, Lewis and St. Lawrence Counties. Over the last 20 years, this essential non-profit organization has provided rides to health care appointments, grocery shopping, and other destinations for residents.
In 2019, our volunteer drivers provided 30,356 charitable trips over 912,866 miles in Jefferson, Lewis and St. Lawrence Counties, an increase in miles of 17.47% over 2018. Of those miles, 424,290 originated in Jefferson County, 141,190 in Lewis County, and 347,386 in St. Lawrence County.
The staff, Board of Directors and volunteer drivers look forward to a time when transportation to community activities and services is accessible to all North Country residents regardless of economic or specialized needs. But for now the mission drives on — striving to provide transportation to health, wellness and critical needs destinations utilizing volunteers and mobility management for anyone who has barriers to transportation.
For more information about how you can help the Volunteer Transportation Center, about its upcoming events, or to become a volunteer driver, contact the agency in Watertown at 315-788-0422, in Canton at 315-714-2034, or Fulton at 315-714-9134. To learn more, visit www.VolunteerTransportationCenter.org.