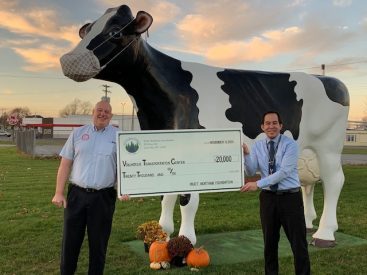 (WATERTOWN, N.Y.) – The Volunteer Transportation Center Inc. (VTC) is proud to announce it has received a $20,000 grant from the Pratt Northam Foundation, Lowville.
The grant is one of 12 awarded by the foundation — amounting to approximately $205,000 given to local projects and programs — through its Community COVID-19 Grant Fund. The fund was created from unused monies allocated for the foundation's 2020 Workership and Careers Here Programs, which the foundation wanted to utilize to positively impact the community.
"The Directors for the Pratt Northam Foundation are pleased to have been able to turn the suspension of their Workership and Careers Here Programs into a positive by creating this fund," said Karen S. Petersen, Executive Director of the Pratt Northam Foundation. "Funding the VTC for $20,000 to help them bridge their funding shortages was a perfect way to show their support for an organization that does so much for our community."
"Hats off to the Volunteer Transportation Center and all of their volunteers who provide assistance to community members in need," she added.
"When we learned we were selected for this grant, we were ecstatic beyond words," said Jeremiah S. Papineau, Foundation Director and Director of Communications for the VTC. "In a year that has presented many challenges, including for nonprofit organizations such as our own, funding like this will make a huge difference."
The funding, said Mr. Papineau, will be utilized to reimburse volunteer drivers for the miles they drive with their own vehicles as they transport residents within the Pratt Northam Foundation coverage area in Jefferson and Lewis Counties. Since the beginning of the COVID-19 pandemic, the VTC has taken steps to ensure the safety of its volunteer drivers, clients and staff, including how the organization conducts its transportation.
"We determined early on that we needed to do our part to stop the spread of COVID-19," said Mr. Papineau. "This includes how we transport clients. Traditionally, when possible and practical, we've tried to transport more than one client at a time in a volunteer driver's vehicle. This not only is more environmentally responsible, it also keeps down the expense of mileage reimbursement."
"However, given the seriousness of the pandemic, we decided to suspend this practice until such a time it is safe to do so again," he added.
The change in practice has led to an increase in the cost of mileage reimbursement as, under the VTC's charitable programs, volunteer drivers are reimbursed at a rate of $0.445 per mile. That means a grant of this size, said Mr. Papineau, can have a significant impact when taking people to medical and dental appointments, life-supporting treatments such as chemotherapy or renal dialysis, and to go grocery shopping.
"This means our volunteer drivers can transport clients roughly 45,000 miles," he said. "That goes a long way in keeping people in our community connected to vital appointments to maintain their health and well-being."
The Pratt Northam Foundation received 25 funding requests, with a total funding request of more than $470,000. All of the proposals submitted were "worthy, creative proposals that show the possibility of the positive that could be created" following the suspension of the foundation's Workership Program due to COVID-19.
ABOUT THE PRATT NORTHAM FOUNDATION
The Pratt Northam Foundation is a private foundation that seeks to be a catalyst to projects that improve the quality of life in the communities of the Black River Valley from Boonville to Carthage. The Foundation provides financial support to not-for-profit organizations and government agencies through a grant process and values projects and opportunities for young people and also considers other innovative initiatives.
The Foundation values initiatives that have broad community support and substantial matching funds. The Foundation is named for the late C. Walter Pratt of Boonville, New York and his cousin, the late Miss Hazel Northam of Brooklyn, New York. It was established by Miss Northam in 1962 and has been perpetuated under the terms of her will.
The Pratt Northam Foundation's funds are derived from the investment of the original endowment, and it does not generate any funds from activities or outside donations.
For more information about the Pratt Northam Foundation, visit www.prattnortham.org, email prattnortham@gmail.com or call 315-804-0312.
ABOUT THE VOLUNTEER TRANSPORTATION CENTER
The Volunteer Transportation Center, Inc. (VTC), established in 1991, drives thousands of miles each year assisting community members in Jefferson, Lewis and St. Lawrence Counties. Over the last 20 years, this essential non-profit organization has provided rides to health care appointments, grocery shopping, and other destinations for residents.
In 2019, our volunteer drivers provided 30,356 charitable trips over 912,866 miles in Jefferson, Lewis and St. Lawrence Counties, an increase in miles of 17.47% over 2018. Of those miles, 424,290 originated in Jefferson County, 141,190 in Lewis County, and 347,386 in St. Lawrence County.
The staff, Board of Directors and volunteer drivers look forward to a time when transportation to community activities and services is accessible to all North Country residents regardless of economic or specialized needs. But for now the mission drives on — striving to provide transportation to health, wellness and critical needs destinations utilizing volunteers and mobility management for anyone who has barriers to transportation.
For more information about how you can help the Volunteer Transportation Center, about its upcoming events, or to become a volunteer driver, contact the agency at 315-788-0422. To learn more, visit www.VolunteerTransportationCenter.org.