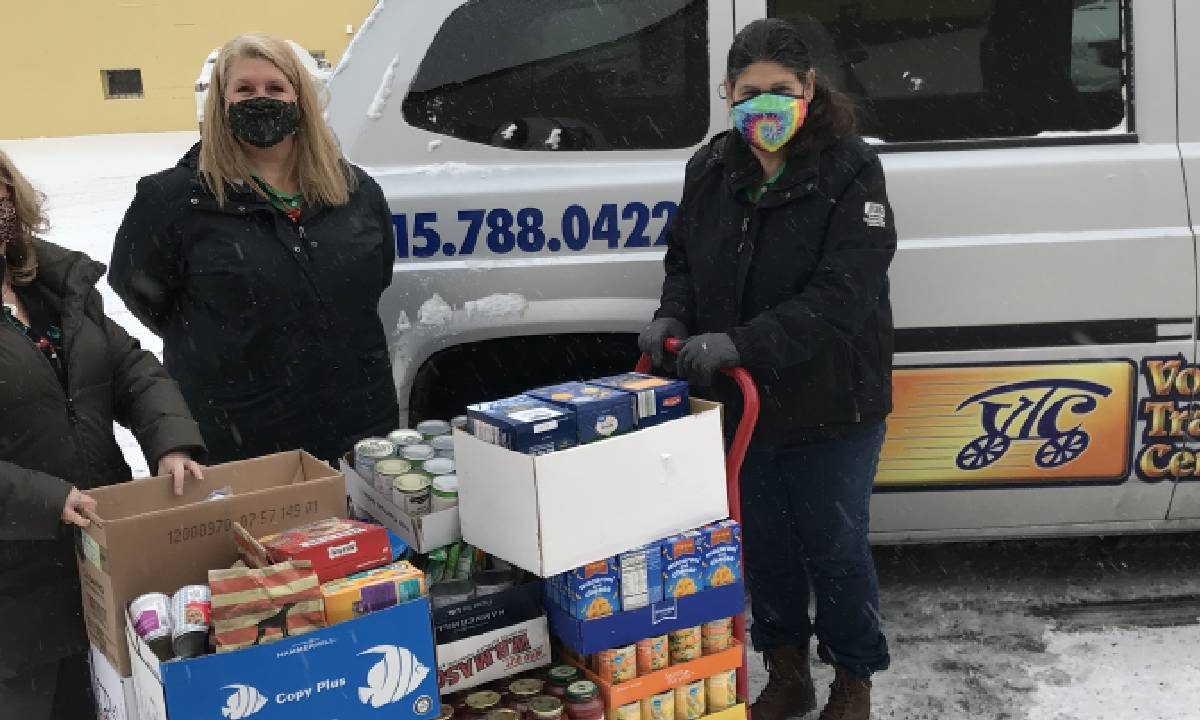 (WATERTOWN, NY) – The Volunteer Transportation Center, Inc. (VTC) recently collected donations for the Watertown Urban Mission.
The staff of the VTC, over a period of eight weeks, collected donations of nonperishables, pet food and other essentials, totaling 460 items that were delivered to Watertown Urban Mission. The drive was inspired by the staff's desire to do something in place of collecting donations for the annual United Way of Northern New York Food Drive, which was canceled this year due to the COVID-19 pandemic.
Honey Marie Galaydick, staff accountant for the VTC, led the effort.
"This has been a difficult year for everyone. I have been very lucky to work throughout the pandemic, while others have not been so fortunate," said Ms. Galaydick. "Since food insecurity has become such an issue during this time I thought it would be a great way for the staff at VTC to give back."
The decision as to where the donations would go was a simple one, she said.
"Watertown Urban Mission is an organization we have partnered with and they do so much for our communities I wanted to donate to them," said Ms. Galaydick.
The eight-week drive was one Ms. Galaydick designed to have a theme each week.
"For example, one week was pet food, one week was breakfast foods, one week was desserts," she said. "This way, people could buy what they could afford and we also could collect more of a variety of items that the food pantry might have trouble getting. This helped us collect more donations and got people to shop with intention."
The donation was greatly appreciated by Watertown Urban Mission, said the organization's Executive Director, Dawn M. Cole.
"This donation is particularly thoughtful in that great care was taken to gather a variety of items, including those not readily available in the pantry, such as pancake mix, syrup and baking products," said Ms. Cole. "The donation of pet food is also greatly appreciated and ensures that those who are struggling are able to care for their furry family members."
"The supplies received through this generous donation will supplement food boxes distributed over the next several days, impacting dozens of households," she added.
The effort was something both Ms. Cole and Ms. Galaydick said was a shining example of how nonprofits supporting one another makes for a better community.
"Collaboration and collegial support among nonprofits is more important than ever; keeping pace with the urgent needs in our community depends on it," said Ms. Cole. "The economic impact of the pandemic continues to challenge household budgets with many lacking the resources to cover the cost of adequate nutrition and other basic essentials for their families."
"Sharing knowledge, resources and man power between nonprofits and local service agencies can have a very positive impact on our community as a whole," said Ms. Galaydick. "I have been overwhelmed with the generosity of the people I work with and my friends and family who also donated. This year has been a lesson in loss and I have learned just how important help from others really is to all of us."
"I am grateful that I work where we are able to help our community and make a difference in so many lives," she added. "I cannot wait to do it again next year."
VTC Executive Director Sam Purington said he was "extremely proud" of Ms. Galaydick and the VTC staff for their initiative in helping others through the work of the Watertown Urban Mission.
"We have an amazing team here at the VTC with big hearts. Knowing they've made an impact with their generosity is a great feeling," said Mr. Purington.
ABOUT WATERTOWN URBAN MISSION
Working in tandem with community partners, Watertown Urban Mission is non-profit human service organization providing supportive services and advocacy to those who are struggling with generational poverty, addiction, domestic violence, financial setbacks caused by job loss or illness, homelessness, food insecurity, and any other issue that threatens the stability of the home. The goal of the Mission is not only to provide help for today but to instill hope and empower individuals to pursue opportunities for a better tomorrow.
For more information, visit www.watertownurbanmisshttp://www.watertownurbanmission.comion.com or call 315-782-8440.
ABOUT THE VOLUNTEER TRANSPORTATION CENTER
The Volunteer Transportation Center, Inc. (VTC), established in 1991, drives thousands of miles each year assisting community members in Jefferson, Lewis and St. Lawrence Counties. Over the last 20 years, this essential non-profit organization has provided rides to health care appointments, grocery shopping, and other destinations for residents.
In 2019, our volunteer drivers provided 30,356 charitable trips over 912,866 miles in Jefferson, Lewis and St. Lawrence Counties, an increase in miles of 17.47% over 2018. Of those miles, 424,290 originated in Jefferson County, 141,190 in Lewis County, and 347,386 in St. Lawrence County.
The staff, Board of Directors and volunteer drivers look forward to a time when transportation to community activities and services is accessible to all North Country residents regardless of economic or specialized needs. But for now the mission drives on — striving to provide transportation to health, wellness and critical needs destinations utilizing volunteers and mobility management for anyone who has barriers to transportation.
For more information about how you can help the Volunteer Transportation Center, about its upcoming events, or to become a volunteer driver, contact the agency in Watertown at 315-788-0422, in Canton at 315-714-2034, or Fulton at 315-714-9134. To learn more, visit www.VolunteerTransportationCenter.org.