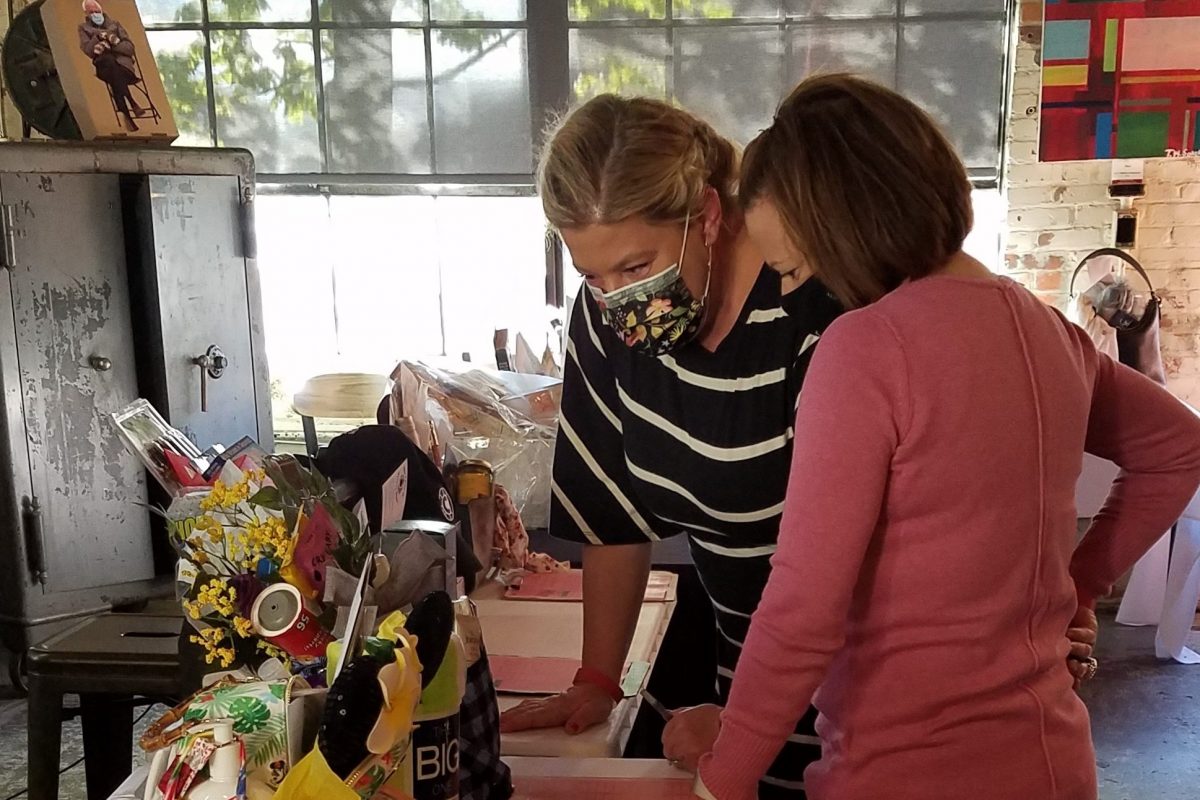 (WATERTOWN, NY) – The Volunteer Transportation Center Inc. (VTC) has announced the return of its Posh Purse Palooza last week has been deemed a success.
The nonprofit organization's event – held May 6 at Garland City Beer Works, Watertown – raised more than $10,000 for the VTC to support the services it provides to the community.
"We're just blown away by the support of the community for this event after having to take a year off due to the pandemic," said VTC Executive Director Sam Purington.
Posh Purse Palooza, which started in 2015, was last held in 2019, raising more than $7,500. In order to adjust to the changes brought about by the pandemic, this year's event was preceded by an online auction component. That component included only 10 purses available for bids prior to the auction. An additional 15 purses were up for bids the night of the event at Garland City Beer Works and, at that point, all 25 were able to be bid on until the end of the evening.
"We wanted to be able maximize the potential number of bids each of these purses could receive," explained Jeremiah S. Papineau, the nonprofit organization's Director of Communications and Foundation Director. "We understood there would be different comfort levels for attending an in-person event, no matter how much we followed CDC and Public Health protocols. We wanted to allow as many people to participate as possible by offering an online bidding option."
In the end, Mr. Papineau said he feels that hybrid format paid off, seeing hundreds of bids come in both from online bidders and those in person.
"It was intense," he said. "We had a team of volunteers working together to ensure all the bids were recorded correctly throughout the night and I think that back-and-forth between those bidding online and those attending the event got everyone's competitive juices flowing."
In addition, Garland City Beer Works offered a signature drink this year, with $2 from every cocktail going directly to the VTC. That act raised an additional $132 for the nonprofit.
"We cannot thank enough all the amazing folks at Garland City," said Mr. Papineau. "We appreciate how they go above and beyond to help make this event a success."
Posh Purse Palooza, which marked its sixth year, is a silent auction event that features new or gently-used purses filled with various items like gift certificates, jewelry, bottles of wine, scarves, cosmetics and more. Purses are donated by generous people in the community – either filled with items or without and then stuffed with donations from businesses and other individuals in the community.
Designers this year included Coach, Kate Spade, Ralph Lauren, Dooney & Bourke, Vera Bradley, Lafayette 148 New York and others. When donations of purses are received, each is assigned a value along with a value of the contents inside. Guests at the event are then able to place bids in the silent auction of the purses while mingling and enjoying food and drink from Garland City Beer Works.
This year's Posh Purse Palooza was made possible by: Underwriters – Excellus BlueCross BlueShield, Watertown Savings Bank, Stewart's Shops/The Dake Family Foundation, the Glenn & Carol Pearsall Adirondack Foundation, and the Pratt Northam Foundation. Diamond Level Sponsor – Carthage Area Hospital; Platinum Level Sponsors – Samaritan Medical Center, Creg Systems, Overhead Door of Watertown, and AmeriCU Credit Union; Gold Level Sponsor – Rosina Vandewall; Silver Level Sponsors – Croghan Meat Market, Waite Toyota, Carlowden Country Club, CEM Machine Inc., Black Horse Group LLC, Shaggy Dog Lodge and Day Spa, Carthage Elks Lodge 1762, Carthage Savings & Loan, Logan's Equipment Inc., and Lowville Elks Lodge 1605. Additional support was provided by the Capital District Physicians' Health Plan, United Way of Northern New York, Northern New York Community Foundation, and the Northern New York Youth Philanthropy Council.
Purse and items for the purses were donated by the following: A Touch of Grace, Antique Boat Museum, Bradley's Military, Cam's Pizzeria, Cabana Bay Tanning and Spa, Caskinette Ford, Clayton Distillery, Colello Air Technologies, Countryside Veterinary Clinic, Eagle Beverage Company, Europe Cakes, Fairfield Inn & Suites, Harmony All Natural Soaps, Hopenhagen Farm, Independent Commercial Contractors, Independent Medical Evaluation Company, Junk in the Trunk Antiques and Crafts, Lafayette 148 New York, M Colello Cosmetics, Magical Vacation Planner Tina Lanier, Milton J. Rubenstein Museum of Science & Technology, Northern Credit Union, Northern Flow Vineyards, Northern Glass, Painfull Acres LLC, River Golf Adventures, Sci-Tech Museum, Silver Bench Jewelry, Snug Harbor Bar & Restaurant, Stefano's Pizzeria & Restaurant, Sudsy Ewe, Sweet on Chocolate, Tammy's Salon, teased. Hair Salon, The Cape Winery, The Church Street Diner, The Fringe Hair Studio & Day Spa, Thousand Islands Winery, Tug Hill Artisan Roasters, Tug Hill Vineyards, Uncle Sam Boat Tours, Wicked Wench Saloon, Wicks & Chicks, Willowbrook Golf Club, Yellow Barn Winery, Kathy Aucter-Morse, Marie Ball, Donna Barnhart, Kerrie Baker, Paula Call, Mackenzie Colello, Celia Cook, Jennifer Cross-Hodge, Meagan Daymont, Barb DeYear, Alice Fisher, Laurie Gleason, Michelle Jeavons, Pat Lamon, Kathy Lettiere, Amy McEathron, Joelle Meade, Kathy Montgomery, Kathryn Murray, Lorna Oppedisano, Makenzie Piatt, Bruce Prior, Victoria & Lester Schermerhorn, Gina Shoen, Wally Sibley, Ruth Soules, Elizabeth Sullivan, Caree Turck, Patty Virginia, Kathy Webster and Pam Zeller.
The VTC would like to thank WWTI ABC50's Alex Hazard for emceeing the event and Garland City Beer Works for hosting. In addition, the organization thanks the Posh Purse Palooza Committee, chaired by Makenzie Piatt, and consisting of Blaine Campany, Michelle Carpenter, Jeany Danielsen, Alice Fisher, Laurie Gleason, Amy McEathron, Jamie McGuire, Joelle Meade, Kathryn Murray, Jeremiah Papineau, Jessica Piatt-Walczyk, Taylour Scanlin, Ashley Scanlin-Pignone, Ruth Soules and Kathy Taber-Montgomery.
The date for next year's Posh Purse Palooza is already set for Thursday, May 5, again before Mother's Day. Donations are already being collected for the event. For more information, contact Mr. Papineau at 315-634-6611, ext. 120, or via email at jeremiah@volunteertransportation.org.
ABOUT THE VOLUNTEER TRANSPORTATION CENTER
The Volunteer Transportation Center, Inc. (VTC), established in 1991, drives thousands of miles each year assisting community members in Jefferson, Lewis and St. Lawrence Counties. Over the last 30 years, this essential non-profit organization has provided rides to health care appointments, grocery shopping, and other destinations for residents.
In 2020, our volunteer drivers provided 24,926 charitable trips over 913,921 miles in Jefferson, Lewis and St. Lawrence Counties. Of those miles, 404,009 originated in Jefferson County, 146,376 in Lewis County, and 363,536 in St. Lawrence County.
The staff, Board of Directors and volunteer drivers look forward to a time when transportation to community activities and services is accessible to all North Country residents regardless of economic or specialized needs. But for now the mission drives on — striving to provide transportation to health, wellness and critical needs destinations utilizing volunteers and mobility management for anyone who has barriers to transportation.
For more information about how you can help the Volunteer Transportation Center, about its upcoming events, or to become a volunteer driver, contact the agency in Watertown at 315-788-0422, in Canton at 315-714-2034, or Fulton at 315-714-9134. To learn more, visit www.VolunteerTransportationCenter.org.