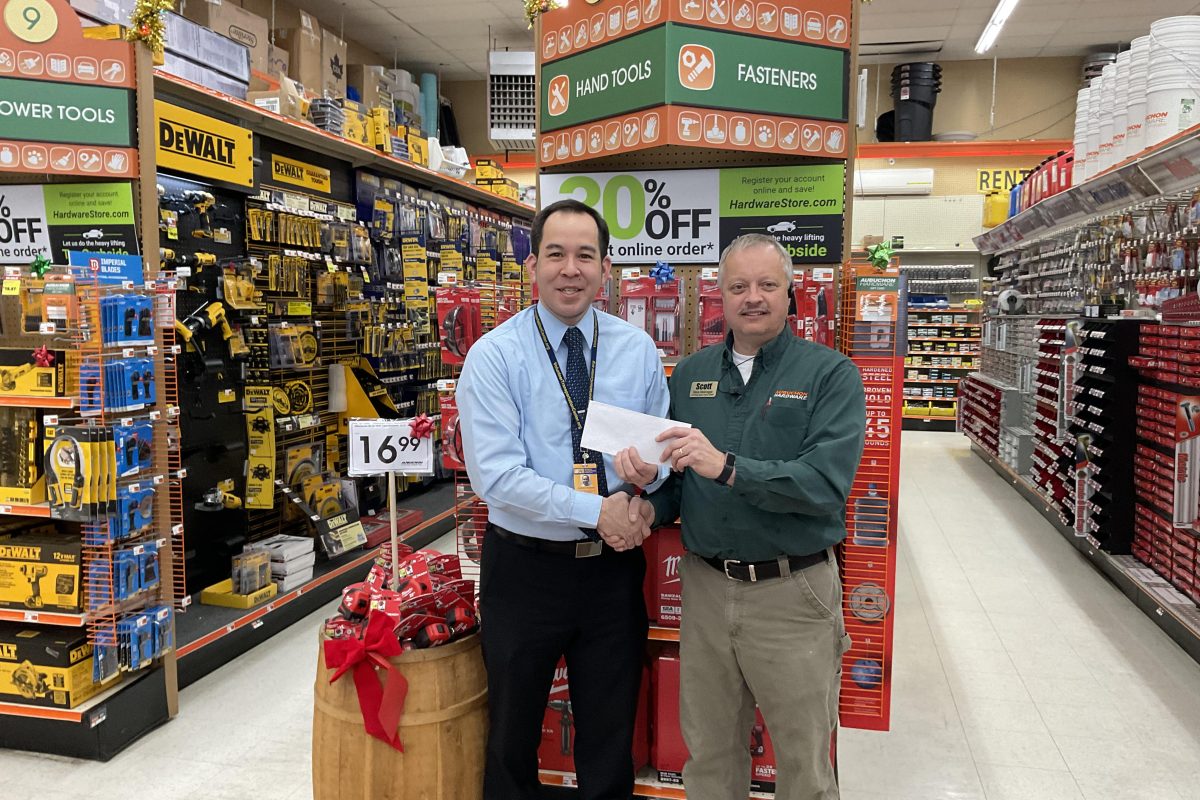 CAPTION: Jeremiah S. Papineau, Director of Communications and Foundation Director for the Volunteer Transportation Center, receives a check for $2,200 from Scott J. Sullivan, manager of the Aubuchon Hardware store in West Carthage.
(WATERTOWN, N.Y.) – Aubuchon Hardware of West Carthage has presented a $2,200 donation to the Volunteer Transportation Center Foundation, Inc. The money was raised for the Volunteer Transportation Center, Inc. through an effort from the store's corporate headquarters, which invited its employees to nominate a non-profit organization to receive funding through the Aubuchon Foundation.
"Aubuchon is very pleased to help out the Volunteer Transportation Center," said Store Manager Scott J. Sullivan. "We understand, in these times, it's very hard to have any type of fundraisers to keep things going.
"We are extremely grateful to Scott and our local Aubuchon Hardware store for their very generous support of the Volunteer Transportation Center," said Jeremiah S. Papineau, Director of Communications and Foundation Director for the VTC. "The generosity they showed us means the world to us, especially in the challenging times we and other nonprofits have seen since the start of the pandemic."
Mr. Papineau noted the donation will be used to reimburse volunteer drivers for the trips they provided to those in the community who would otherwise not have transportation to crucial appointments.
"Mileage reimbursement is what keeps these trips happening," he said. "That's why this kindness means so much to us."
During the course of the pandemic, the need for funding for mileage reimbursement has increased. The common practice of transporting more than one client at a time, when practical, was suspended in an effort to limit the spread of COVID-19. While all volunteer drivers are provided with personal protective equipment, including masks and hand sanitizer, the policy was put in place to follow guidelines of the Department of Health and Centers for Disease Control and Prevention.
"While this practice has been one that helps us to limit the potential spread of COVID, we've had to utilize more volunteers to complete the requests for transportation, which increases the cost of mileage reimbursement," said Mr. Papineau. "Support from businesses like Aubuchon Hardware is so important, especially now."
"As a company we recognize that there is truly a need out there," said Mr. Sullivan. "In the past 27 years that we have been a part of the community, we have always tried to help out. We have always been a great supporter of our local schools and many other local organizations. We have been very fortunate to be part of this great community and are very thankful to all our loyal customers. We are truly blessed to have the best customers in the North Country."
ABOUT AUBUCHON HARDWARE
Founded by William E Aubuchon in 1908, Aubuchon Hardware is the oldest family-owned and managed Hardware Store chain in America. With more than 100 stores in New England and Upstate NY, Aubuchon has been a local mainstay for generations. Over the years the business has grown, but still prides itself on earning their customers' trust and loyalty the old fashioned way: By having the items people need, at affordable prices, with the convenient shopping experience and friendly, knowledgeable service one would expect.
Today, under the direction of William E. Aubuchon IV, great grandson of the founder, the company continues to adapt to an ever changing retail environment with a relentless focus on retail innovation and customer convenience.
The local store is located at 66 High Street, West Carthage, and may be reached at 315-493-2506. For more information about Aubuchon Hardware, visit their website at www.hardwarestore.com.
ABOUT THE VOLUNTEER TRANSPORTATION CENTER
The Volunteer Transportation Center, Inc. (VTC), established in 1991, drives thousands of miles each year assisting community members in Jefferson, Lewis and St. Lawrence Counties and beyond. Over the last 30 years, this essential non-profit organization has provided rides to health care appointments, food sources and other critical needs destinations for residents.
In 2020, our volunteer drivers provided 24,926 charitable trips over 913,921 miles in Jefferson, Lewis and St. Lawrence Counties. Of those miles, 404,009 originated in Jefferson County, 146,376 in Lewis County, and 363,536 in St. Lawrence County. That amounted to approximately $406,695 in mileage reimbursement issued to volunteer drivers.
The staff, Board of Directors and volunteer drivers look forward to a time when transportation to community activities and services is accessible to all North Country residents regardless of economic or specialized needs. But for now the mission drives on — striving to provide transportation to health, wellness and critical needs destinations utilizing volunteers and mobility management for anyone who has barriers to transportation.
For more information about how you can help the Volunteer Transportation Center, about its upcoming events, or to become a volunteer driver, contact the agency in Jefferson and Lewis Counties at 315-788-0422, in St. Lawrence County at 315-714-2034, in Oswego County at 315-694-6644, or Western New York at 585-250-5030. Volunteers drive their own cars, set their own hours and receive mileage reimbursement but, more importantly, make a difference in the community. To learn more, visit www.volunteertransportationcenter.org.