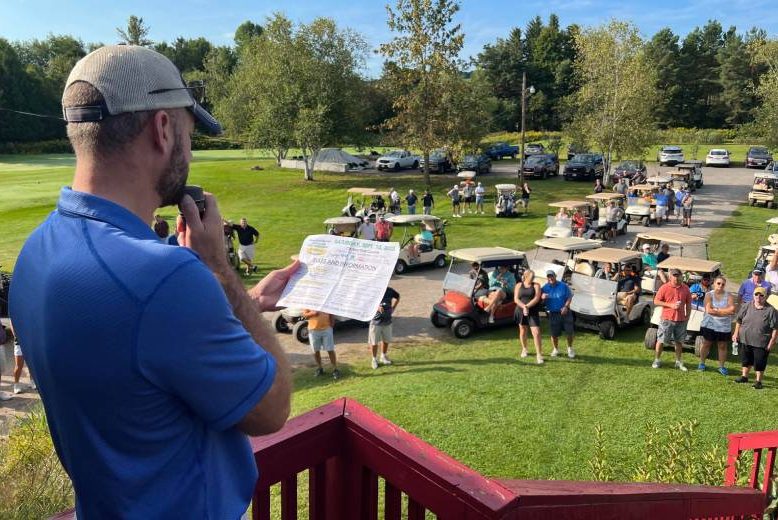 (LOWVILLE, N.Y.) – The Volunteer Transportation Center Foundation's Annual Volunteer Transportation Center Jefferson-Lewis Golf Tournament, which marked its seventh year, has been deemed a huge success.
The tournament – hosted at Cedars Golf Course in Lowville Sept. 10 – saw 41 teams compete and raised $20,000 to help the VTC provide transportation to those in need in Jefferson and Lewis Counties.
"We are incredibly pleased with the turnout for this year's event and to see what we raised this year be on par with the same amount we raised last year," said Jeremiah S. Papineau, the nonprofit organization's Director of Communications and Foundation Director. "We always appreciate the support of this tournament and the great partnership with have with Cedars. J.R. Chamberlain and his staff do a great job year after year. We're looking forward to another great year next year."
The tournament, which followed a captain and crew format, saw the team from Luigi's Pizzeria, led by Pat Lindsay, take first place in the A Flight with a score of 55. In the B Flight, a team led by Travis Rupert took first place with a 55. In the Co-ed Flight, first went to a team led by Sue Bush with a 53.
This year's tournament was underwritten by Excellus BlueCross BlueShield, Watertown Savings Bank, Stewart's Shops, the Glenn and Carol Pearsall Adirondack Foundation, the Kinney Drugs Foundation, and Benefit Services Group.
Additional sponsors included, at the Eagle Level – Bonaparte Pharmacy; Colello Air Technologies; Dr. Dennis Seubert, in memory of David Rounds; Service Plus Automotive; The Bonadio Group; and Wratten's RV. Birdie Level sponsors included Dionne-Rumble Veterans of Foreign Wars Post 7227, Fuller Insurance Agency, and RBC Wealth Management. Par Level sponsors included Chang's Barber Shop; Caskinette Ford; GYMO Architecture Engineering & Land Surveying; Johnson Lumber; and Luigi's Pizzeria. Additional support was provided by Lowville Elks Lodge 1605 and the Watertown Firefighters Benevolent Association. Hole-in-one prizes were provided by Price Chopper and Wratten's RV.
Raffle prizes were donated by Big Apple Watertown; Blinky's Liquors; Bonaparte Pharmacy; Boonville Wine & Spirits; Cedar Hedge Farm; Charlie's Liquor; Coca-Cola Bottling Company of Northern New England; Doyle's Pub; Colwell's Farm Market; Curtis Furniture; Duffy's Digs Jewelry, Dunkin'; Farney's Home and Building Center; Five Corners Greenhouse; Griff's Redemption Center; Hair & There; Hanno's Hometown Car Wash; Harrisville Hardware; Hopenhagen Farm; Kinney Drugs; Lewis County Chamber of Commerce; Little Friends Veterinary Services; Lloyd's of Lowville; Lowville Farmers Co-Op; Northern Glass; O'Brien Dairy; Otis Technology; PB&J Café; Pioneer Café; Sahara Restaurant; Service Plus Automotive; Snow Ridge Ski Resort; The Cottage Inn; The Village Inn; Treats and Tiques; Tug Hill Estate; Tyro Automotive; Vinny's Pizzeria; Volunteer Transportation Center; Walmart Supercenter; Watertown Daily Times; and White's Farm Supply Inc.; Ms. Nettie Mothersell; Ms. Jeanne Fuller; and Mr. Ray O'Brien. The date for next year's tournament is slated for Saturday, Sept. 9, 2023, at Cedars Golf Course. Details will be forthcoming as the date approaches.
ABOUT THE VOLUNTEER TRANSPORTATION CENTER
The Volunteer Transportation Center, Inc. (VTC), established in 1991, drives thousands of miles each year assisting community members in Jefferson, Lewis and St. Lawrence Counties and beyond. Over the last 30 years, this essential non-profit organization has provided rides to health care appointments, food sources and other critical needs destinations for residents. In 2021, our volunteer drivers provided 26,711 charitable trips over 1,073,435 miles in Jefferson, Lewis, and St. Lawrence Counties. Of those miles, 470,002 helped those in Jefferson County, 151,954 in Lewis County, and 451,479 in St. Lawrence County. That equated to approximately $477,679 in mileage reimbursement for our volunteers.
The staff, Board of Directors and volunteer drivers look forward to a time when transportation to community activities and services is accessible to all North Country residents regardless of economic or specialized needs. But for now the mission drives on — striving to provide transportation to health, wellness and critical needs destinations utilizing volunteers and mobility management for anyone who has barriers to transportation.
For more information about how you can help the Volunteer Transportation Center, about its upcoming events, or to become a volunteer driver, contact the agency in Jefferson and Lewis Counties at 315-788-0422, in St. Lawrence County at 315-714-2034, in Oswego County at 315-644-6944, or Western New York at 585-250-5030. Volunteers drive their own cars, set their own hours and receive mileage reimbursement but, more importantly, make a difference in the community. To learn more, visit www.volunteertransportationcenter.org.