(WATERTOWN, NY) – The Volunteer Transportation Center will benefit from a craft fair being held at the Watertown Municipal Arena.
The Spring Has Sprung Mother's Day Craft Fair will be held at Watertown Municipal Arena, 600 William T. Field Drive, on Friday, May 12, from 3 p.m. to 8 p.m. and Saturday, May 13, from 10 a.m. to 4 p.m. The event is organized by Kim Sherman, Clayton, whose brother receives from the Volunteer Transportation Center. Ms. Sherman and her business, Fifty-One Events, host craft shows and other selling events throughout Northern New York.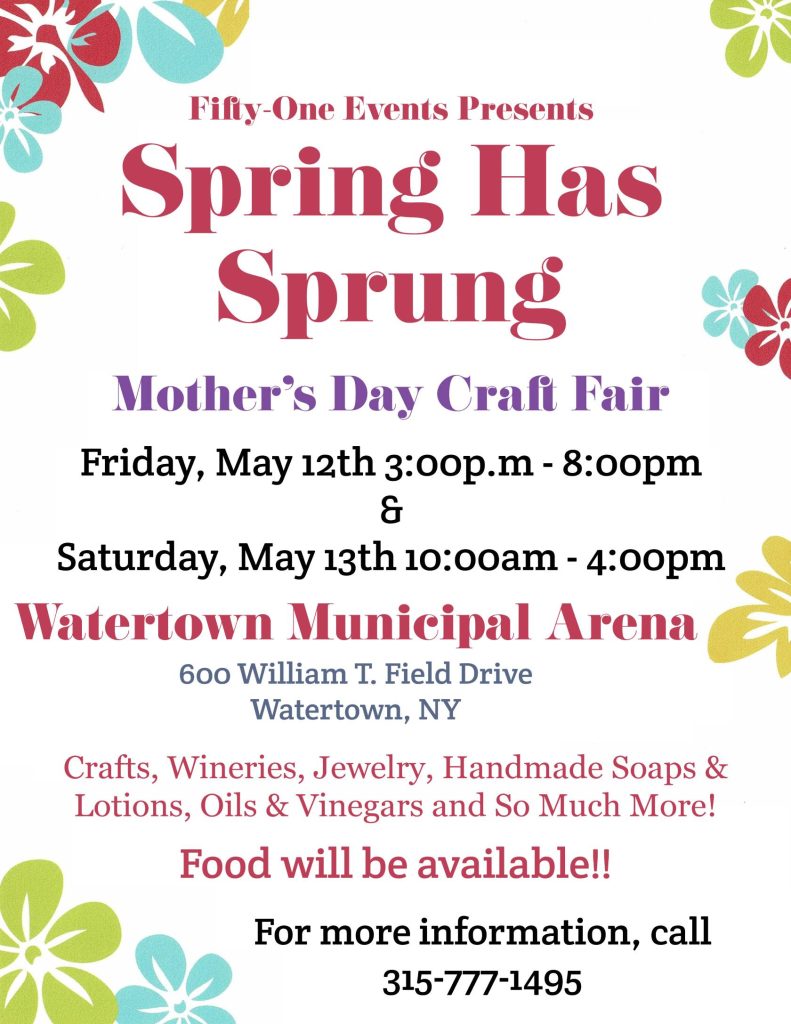 "I have hosted craft fairs around the area for years and, as I was planning this season's events, I decided that since I was now using the services of the VTC it would be great to donate some of the proceeds to them," said Ms. Sherman, who noted her brother has who has Charcot-Marie-Tooth disease, a neurological affliction that has resulted in him being no longer able to walk and in need of the VTC for transportation.
"We were extremely touched that Kim wanted to help the VTC in such a kind way," said Jeremiah S. Papineau, the nonprofit organization's Director of Communications and Foundation Director. "We're proud to be here for people in our community who need us and it's always great to hear how appreciated our service is. This level of gratitude is just amazing."
The Spring Has Sprung Mother's Day Craft Fair – sponsored by Aire Serv Heating & Air Conditioning – will feature more than 65 vendors offering not only crafts but jewelry, baked goods, clothing, handmade soaps, lotions, oils, and more, as well as booths from local wineries. "There's a great selection of items to choose from," she said, noting despite it being a Mother's Day-themed craft fair, anyone will enjoy it. "There will be more than just items for mom … there's something for everyone."
In addition, a performance by the Indian River Orchestra will be from 5 to 6 p.m. Friday night and a performance by dancers from Rhonda's Footeworks will be from 1 to 2 p.m. Saturday.
Admission for the craft fair will be $2 per person, with those younger than 10 years old admitted free. A portion of the admission fee at the door will benefit the Volunteer Transportation Center. Ms. Sherman hopes she'll be able to raise a sizable amount for the VTC. Admission will be cash only but vendors will take a variety of payment methods, said Ms. Sherman.
"Shoppers should bring some cash for the few that don't accept other forms of payment," she added. "We don't want you to miss out on that special item."
Ms. Sherman said she's been working on this event since November but hard work is worth it, she said.
"It's always work trying to find the right venue and how you're going to advertise, selecting vendors and trying to do something a little different from other events," said Ms. Sherman. "I certainly hope the public will learn how valuable the VTC is to the community. You never know when you might need their services."
"We hope it's a great turnout not only to help our organization but for the vendors at this event," said Mr. Papineau. "We love to support and promote local businesses whenever we can."
For more information about the Spring Has Sprung Mother's Day Craft Fair, contact Ms. Sherman at 315-777-1495 or fiftyoneevents4u@gmail.com.
ABOUT THE VOLUNTEER TRANSPORTATION CENTER
The Volunteer Transportation Center, Inc. (VTC), established in 1991, drives thousands of miles each year assisting community members in Jefferson, Lewis and St. Lawrence Counties and beyond. Over the last 30 years, this essential non-profit organization has provided rides to health care appointments, food sources and other critical needs destinations for residents.
In 2022, volunteer drivers provided 26,487 charitable trips over 878,240 miles in Jefferson, Lewis, and St. Lawrence Counties. Of those miles, 376,604 helped those in Jefferson County, 137,743 in Lewis County, and 363,893 in St. Lawrence County. That equated to approximately $439,120 in mileage reimbursement for our volunteers.
The staff, boards of directors and volunteer drivers look forward to a time when transportation to community activities and services is accessible to all North Country residents regardless of economic or specialized needs. But for now the mission drives on — striving to provide transportation to health, wellness and critical needs destinations utilizing volunteers and mobility management for anyone who has barriers to transportation.
For more information about how you can help the Volunteer Transportation Center, about its upcoming events, or to become a volunteer driver, contact the agency in Jefferson and Lewis Counties at 315-788-0422, in St. Lawrence County at 315-714-2034, or Western New York at 585-250-5030. Volunteers drive their own cars, set their own hours and receive mileage reimbursement but, more importantly, make a difference in the community. To learn more, visit www.volunteertransportationcenter.org.