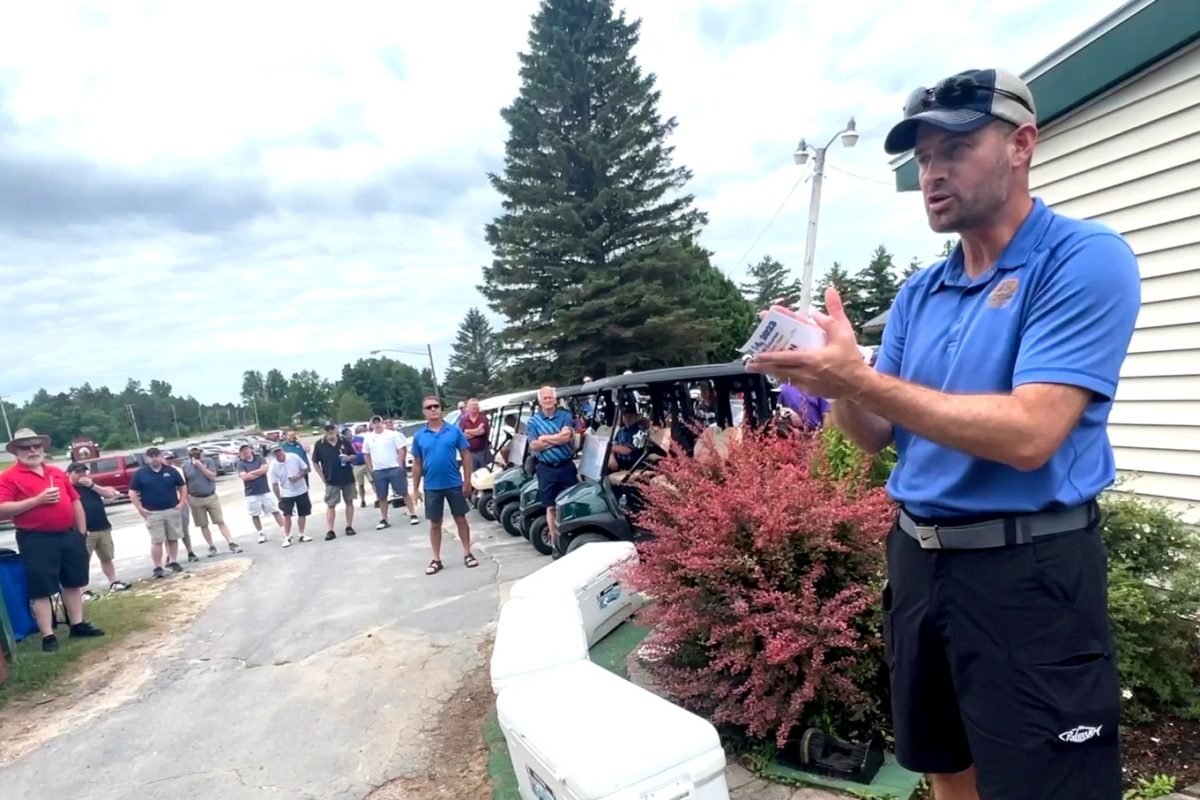 (GOUVERNEUR, N.Y.) – The Volunteer Transportation Center Foundation's Annual Volunteer Transportation Center St. Lawrence County Golf Tournament, which marked its eighth year, has been deemed a huge success.
The tournament – hosted at Emerald Greens Golf Course in Gouverneur July 14 – saw 30 teams compete and raised $14,500 to help the VTC provide transportation to those in need in St. Lawrence County. It was an increase in both the number of teams and the amount raised over last year.
"Once again, we're overwhelmed by the generosity we saw for our annual tournament at Emerald Greens," said Jeremiah S. Papineau, the nonprofit organization's Director of Communications and Foundation Director. "This is the third year we've held the tournament in Gouverneur and it continues to be a great partnership with John Cunningham and his crew. Each year, this tournament continues to grow and that greatly benefits the people we serve in St. Lawrence County."
The tournament, which followed a captain and crew format, saw the team from Kyle's Wigwam, led by Kyle Pignone, take first place in the men's division with a 53, followed by Community Bank N.A., led by Sean Despaw, taking second with a 55. In the co-ed division, first place went to Community Health Center of the North Country, a team led by Genny Hall with a 58. Second place went to a team led by Margaret Sweredoski, with a 61.
This year's tournament was underwritten by Excellus BlueCross Blue Shield, Watertown Savings Bank, Stewart's Shops, and the Glenn & Carol Pearsall Adirondack Foundation, the Kinney Drugs Foundation and OneDigital/Benefit Services Group. Additional sponsors included: Eagle Level – ACCO Brands, American Legion Post 65, Clifton-Fine Hospital, Community Bank N.A., Community Health Center of the North Country, Con-Tech Building Systems, Howland Pump Supply, Seaway Valley Prevention Council/The Valley Recovery Center, and Staie on the Seaway/Appraisals USA; Birdie Level – Richard E. Winter Cancer Center, Bonaparte Pharmacy, and North Country Indoor Golf; Par Level – Bill Rapp Chevrolet of Ogdensburg, Children's Home of Jefferson County (CHJC), Emerald Greens Golf Course, J.C. Merriman Inc., MacFadden Dier-Leonard Agency Inc., Thew and Associates, and Veterans of Foreign Wars Post 6338. Additional support was provided by Gretchen E. Tessmer, Esq. Attorney at Law; Price Chopper, Blue Mountain Spring Water, and Advanced Business Systems.
Raffle prizes were donated by 3 Bears Gluten Free Bakery and Café; A. J. Missert Inc.; Aubuchon Hardware (Gouverneur); AutoZone (Potsdam); Bella Brooke Vineyard; Best Western University Inn; Bonaparte Pharmacy; Casablanca Restaurant; Cindy's Cake Shop; Coakley's Ace Hardware; Dashnaw's Pizzeria; Emerald Greens Golf Course; Excellus BlueCross BlueShield; Emily's Flower Shop; Frederic Remington Art Museum; Fun Unlimited; Glow Skincare and Spa; Griff's Beverage Center (Potsdam); Hampton Inn; Hoof & Horn Butcher and Eatery; In-Law Brewing Company; Jake's on the Water; Massena Memorial Hospital Foundation; Milton J. Rubenstein Museum of Science and Technology; Mrs. Beasley's Liquor & Wine; NAPA Auto Parts (Canton); NAPA/Newvine Auto Parts (Gouverneur); Nature's Storehouse; New York Pizzeria (Gouverneur); OneDigital/Benefit Services Group; Potsdam Food Co-Op; Riverside Liquors; Robillard's Plant City; Saint Larry's Bar and Grill; Silver Leaf Diner; Small Town Supply Ace Hardware; Southville Maples; Spirits of Downtown Brasher Falls; Staie on the Seaway/Appraisals USA; SwingTime Mini Golf; T&R Wines and Liquors; The Celtic Knot; The Pear Tree; Tim Horton's; Tractor Supply (Gouverneur); Volunteer Transportation Center; Wal-Mart (Ogdensburg); White's Flowers; Ye Olde Liquors; Kay Zimmer; and Sam Purington.
Mr. Papineau thanked the hard work of the VTC's St. Lawrence County Advisory Committee, which consists of Ray Babowicz, Casandra Dodd, Alexa Goolden, Sommer Giordano, Rachel LaPoint, Maura Mayer, Kay Zimmer, Laurie LaPoint, Sonja Jensen, Doreen Salcido, Lisa Waite, Charisse McPherson, Greg Mastro, and Peggy Durant.
The date for next year's tournament is slated for Friday, July 12, 2024, at Emerald Greens Golf Course. Details will be forthcoming as the date approaches.
ABOUT THE VOLUNTEER TRANSPORTATION CENTER
The Volunteer Transportation Center, Inc. (VTC), established in 1991, drives thousands of miles each year assisting community members in Jefferson, Lewis and St. Lawrence Counties and beyond. Over the last 30 years, this essential non-profit organization has provided rides to health care appointments, food sources and other critical needs destinations for residents.
In 2021, our volunteer drivers provided 26,711 charitable trips over 1,073,435 miles in Jefferson, Lewis, and St. Lawrence Counties. Of those miles, 470,002 helped those in Jefferson County, 151,954
in Lewis County, and 451,479 in St. Lawrence County. That equated to approximately $477,679 in mileage reimbursement for our volunteers.
The staff, Board of Directors and volunteer drivers look forward to a time when transportation to community activities and services is accessible to all North Country residents regardless of economic or specialized needs. But for now the mission drives on — striving to provide transportation to health, wellness and critical needs destinations utilizing volunteers and mobility management for anyone who has barriers to transportation.
For more information about how you can help the Volunteer Transportation Center, about its upcoming events, or to become a volunteer driver, contact the agency in Jefferson and Lewis Counties at 315-788-0422, in St. Lawrence County at 315-714-2034, or Western New York at 585-250-5030. Volunteers drive their own cars, set their own hours and receive mileage reimbursement but, more importantly, make a difference in the community. To learn more, visit www.volunteertransportationcenter.org.