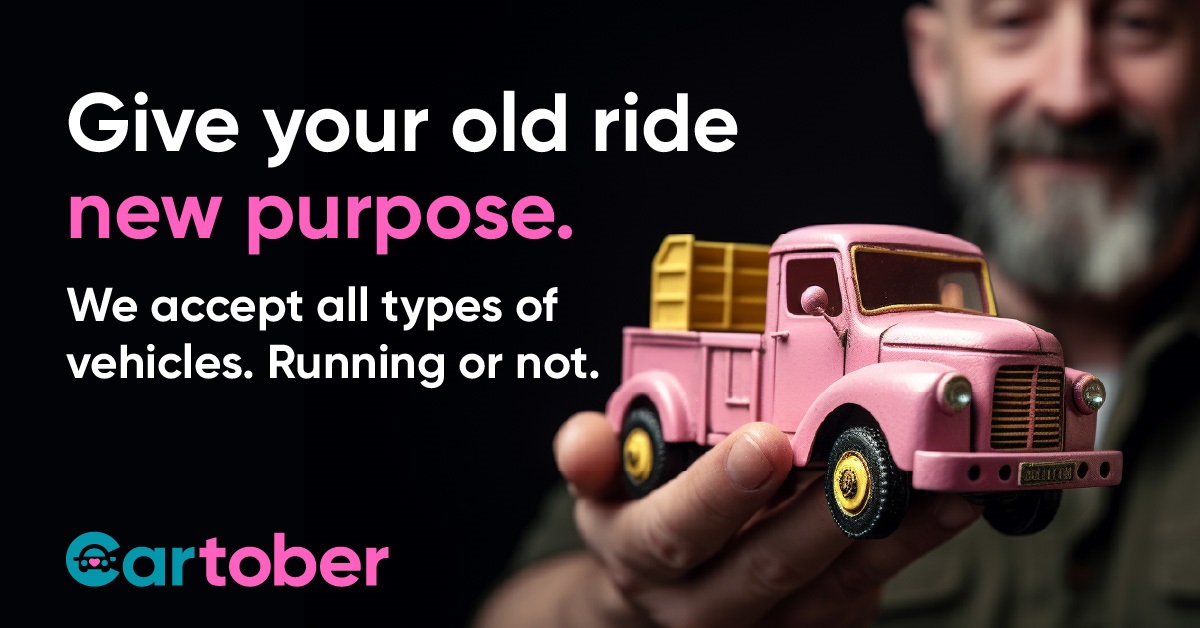 The Volunteer Transportation Center Foundation is participating in "Cartober," a national campaign that raises awareness about making vehicle donations through Charitable Adult Rides and Services (CARS) during the month of October.
The "Cartober" campaign was developed by CARS, a 501(C)(3) nonprofit vehicle donation program, which the Volunteer Transportation Center Foundation recently connected with as a way to raise money in support of the Volunteer Transportation Center.
"We actually first learned of CARS late last year," explained Jeremiah S. Papineau, Director of Communications and Foundation Director for the Volunteer Transportation Center.
Mr. Papineau added he himself donated a vehicle through the CARS program to help another nonprofit organization and became interested in collaborating with CARS to benefit the VTC.
"As a donor, the process was very simple," said Mr. Papineau. "After going through it, I thought this would be a great way for someone to support our organization who might not have traditional means to do so but who might have an old vehicle hanging around and who isn't sure what to do with it."
The VTC Foundation connected with CARS and established a donation program to benefit the VTC, which it is now announcing in time for the CARS "Cartober" campaign.
"This is the time of year when more and more people think about how they can support nonprofit organizations like ours and it's also the time of year when people are looking to make more room in their garages or on their land before winter hits," said Mr. Papineau, who noted vehicle donations will still be able to be made after October. "We just figured this is the perfect time to announce how vehicles can be donated to CARS and help the VTC at the same time."
Donating a vehicle is simple, said Mr. Papineau. Those interested in donating a working or non-working vehicle may do so by going online to the VTC Foundation's section of CARS website, www.careasy.org/nonprofit/volunteer-transportation-center. Donors will be able to fill out the online form with information about the vehicle being donated. Once the form has been submitted, a CARS representative will contact the donor to verify the information and to arrange for the vehicle to be picked up free of charge.
"The whole idea is to make the process as simple as possible for the donor," said Mr. Papineau reiterated, emphasizing cars may be in working or non-working condition. "CARS strives to accept all vehicle donations, running or not. Basically, they just have to be in one piece, have an engine and be accessible by a tow truck."
According to the CARS website, when a vehicle donation is picked up, donors hand over the current and clear title for the vehicle and receive an initial donation receipt from the tow truck driver. The vehicle will then be sold at auction and donors will be mailed a thank you letter from CARS within 30 days of the sale of the vehicle, which serves as a tax receipt. This will be the donor's final tax document if their vehicle sells for $500 or less. If the vehicle sells for more than $500 and the donor has provided their tax identification number, CARS will also mail an IRS Form 1098-C — "Contributions of Motor Vehicles, Boats, and Airplanes" —  to the donor within 30 days of the sale stating the amount of gross proceeds received from their donation.
If those interested in donating don't live in New York, that's okay, too, he added. The CARS program accepts vehicle donations in all 50 states.
"The great thing is, people who want to donate their vehicles to help the VTC don't have to live in the area," said Mr. Papineau, who noted one donation came from a person located in Arizona. "CARS truly aims to make it easy for people to donate and help organizations like ours."
Donations received by the VTC Foundation will help the VTC provide mileage reimbursement to volunteer drivers who provide transportation to people in need in Jefferson, Lewis and St. Lawrence counties.
For more information about the CARS donation program or the VTC, contact Mr. Papineau at 315-303-2590 or via email at foundation@volunteertransportation.org. Those wishing to donate a vehicle but who would rather begin the donation process by phone may call Mr. Papineau or contact CARS at 1-855-500-RIDE (7433).
ABOUT CHARITABLE ADULT RIDES AND SERVICES (CARS)
CARS is a 501(c)(3) nonprofit that helps thousands of nonprofit organizations in the U.S. and Canada increase their fundraising and acquire new contributors through turn-key vehicle and real estate donation programs. Since 2003, CARS has returned more than $300 million to its partners. CARS also reinvests in the community by providing meals and transportation solutions to seniors each year through a program called On the Go.
Founded in San Diego, Calif., in 2003 as a means to provide additional funding to the programs and services of Jewish Family Service, CARS soon began accepting vehicle donations to help other nonprofits raise extra revenue. What began as a company of just a few employees accepting around three vehicle donations per day, has grown into a well-respected leader in the car donation industry. CARS' success to date stems from its dedication to exceptional customer service, our ability to maximize each donation, and the extensive marketing content they create and distribute to their partners to help promote their programs.
Their mission is "to provide innovative fundraising and support services for our nonprofit and public media partners. We achieve this through turn-key donation programs, including vehicle and real estate donations. Throughout the donation process, we treat every donor with respect and gratitude. We create sustainable revenue streams for our partners, generating millions of dollars to support their vital causes."
Their vision is "to provide fundraising programs and innovative solutions for community-driven organizations and the world's most impactful nonprofits."
For more information about CARS, visit their website at www.careasy.org.
ABOUT THE VOLUNTEER TRANSPORTATION CENTER
The Volunteer Transportation Center, Inc. (VTC), established in 1991, drives thousands of miles each year assisting community members in Jefferson, Lewis and St. Lawrence Counties and beyond. Over the last 30 years, this essential non-profit organization has provided rides to health care appointments, food sources and other critical needs destinations for residents.
In 2022, volunteer drivers provided 26,487 charitable trips over 878,240 miles in Jefferson, Lewis, and St. Lawrence Counties. Of those miles, 376,604 helped those in Jefferson County, 137,743 in Lewis County, and 363,893 in St. Lawrence County. That equated to approximately $439,120 in mileage reimbursement for our volunteers.
The staff, boards of directors and volunteer drivers look forward to a time when transportation to community activities and services is accessible to all North Country residents regardless of economic or specialized needs. But for now the mission drives on — striving to provide transportation to health, wellness and critical needs destinations utilizing volunteers and mobility management for anyone who has barriers to transportation.
For more information about how you can help the Volunteer Transportation Center, about its upcoming events, or to become a volunteer driver, contact the agency in Jefferson and Lewis Counties at 315-788-0422, in St. Lawrence County at 315-714-2034, or Western New York at 585-250-5030. Volunteers drive their own cars, set their own hours and receive mileage reimbursement but, more importantly, make a difference in the community. To learn more, visit www.volunteertransportationcenter.org.